Oh boy, do I love to play. Can you blame me? As a dog, I think it's in my nature. Whether it's playing fetch with a ball or running around with the little humans, I can't seem to get enough. One of my favorite things to do is play tug of war. While my humans love to play as well and are exceptional at keeping up with me, there are times when I'm by myself. As a puppy, being alone often led to something my humans were not happy with when they returned. I'm sure I'm not the only one who has found myself in these situations. Thankfully, we discovered suction cup dog toys, the perfect thing to help stay amused when by myself.
Fanz Dog Tug Toy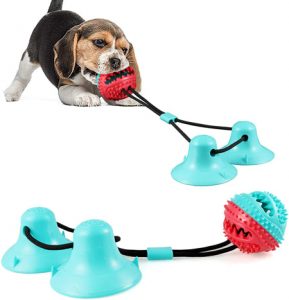 As a puppy, the Fanz Dog Tug Toy can be amazing. It'snot just a toy, but much more than that. While your puppy is busy playing away, this toy was busy cleaning his or her teeth. And guess what else? Our humans can fill it with treats! Even on the off chance that a puppy starts getting bored, the determination to get all those treats out kept them going and going. While this toy is great for a puppy, there will come a time when they start to outgrow it. The bigger they get, the easier it will be to chew apart.With that size comes strength and before long most puppies will be stronger than the suction cups can handle, and it will no doubt pop off the floor before they can get a good game of tug of war going.
The Good
The chewable plastic can help sooth aching teeth while puppy is teething.
Can keep a puppy amused for hours trying to get the treats out.
A decent holding suction cup good for puppies and small dogs.
The Not So Good
Not suited for bigger dogs as it becomes very easy to pull off the floor.
USWT Super Anti-Bite Suction Cup Dog Toy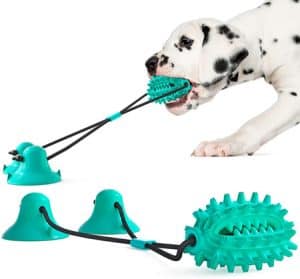 The next one on my list is the USWT Super Anti-Bite Suction Cup Dog Toy. This one has all of the great qualities that the Fanz Dog Tug Toy. It can clean a dogs teeth as we play with it, and it can be packed full of treats. The big difference is that this one can hold up a little better to bigger dogs. Its durability and stronghold mean larger dogs can chew and pull to their heart's content, without the worry of it breaking. The suction cups are the same material as the chew toy itself, so when we decide we want to chew them instead, the toy won't break.
The Good
Much better suited for a bigger dog.
The rope is sometimes the weakest point on these kinds of toys, but this one can withstand all the pulling any dog can throw at it.
The Not so Good
If your dog is not using these toys to play tug of war, they are most certainly chewing on it, especially if there are treats in it. The bumps that are designed to clean a dog's teeth can wear down quickly. It doesn't break, which is good, but it does make it less effective when it comes to teeth cleaning.
RESTONE Suction Cup Dog Toy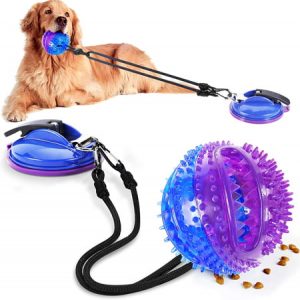 When it comes to chewing on things, I am by no means an aggressive dog, but I do love to play, a lot. The RESTONE Suction Cup Dog Toy is designed with aggressive chewing dogs in mind, but that doesn't mean that it can't be any dogs favorite tug toys. Because it's for those aggressive types, it is built very strong. No matter how hard they try, it would be tough for any dog to pull hard enough for the suction cup to let go. A bonus with this toy is that the ball is removable, meaning when Mom and Dad and the little humans are at home it can double as a fetching toy.
The Good
The toy is very, strong, and it would be hard to find a dog that could break it.
Comes in very attractive colors.
The removable ball means it doubles as a fetching toy, or it can be taken it anywhere while your dogtries to get the treats out.
The Not So Good
I understand the need to build something very durable, especially if it is going to be played with by bigger, more aggressive dogs, but that strength can make it tough for some dogs to be able to get the treats out of the ball.
CPFK Dog Chew Suction Cup Tug-of-War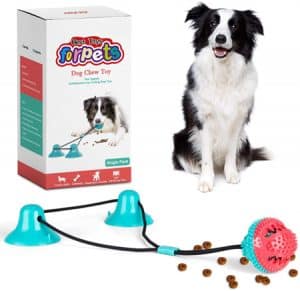 The CPFK Dog Chew Suction Cup Tug-Of-War toy is another great choice, but maybe more so for puppies instead of full-grown dogs. It is supposed to be good for all sizes of dogs, but it is more like the Fanz Dog Tug Toy designed with puppies and small dogs in mind. It does have the same options as the other toys here, but it can be very easy to pull from the floor, which might be frustrating for dogs and owners alike.
The Good
This toy is perfect for smaller dogs and puppies.
Treat dispenser is easy to get treats from.
Soft rubber is great for teething puppies who are often in the mood to chew.
The Not So Good
It is a very good toy; it's just not designed for bigger who need it to stand up to more punishment than a smaller dog would give it.
QPAO Suction Toy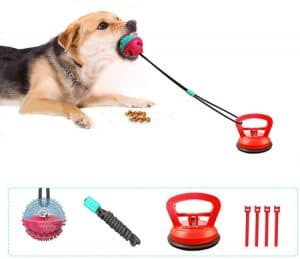 There is something about the sound of the bell in the QPAO Suction Toy that can get any dog racing with excitement. Like the other toys on this list, this one will clean a dog's teeth while they play. Filled with treats, it's hard to tell what a dog would like better, the treats or the intoxicating noise the toy makes.
The Good
The intoxicating bell sounds.
The suction strength means it is very hard for any dog to pull loose.
The treat dispenser is relatively easy to get treats out of.
The bite resistant ball means it will not come apart in a dog's mouth.
The Not So Good
The ball is on the small side, which could be an issue for larger dogs.
So, there you have it, the rundown of some great suction cup toys. Chewing and tugging on these toys can keep any dog busy for hours and can help them to stay active on those less than active days, but maybe the greatest thing isgiving any dog the ability to amuse themselves when there is no-one around to keep them amused and hopefully even keep them out of trouble.