You think you got game? You've got nothing on me! That's because you're looking at, that's right, the world's top basketball player for the dog's NBA team! Well… that might be a bit of an exaggeration. The truth is, I'm the team. The whole team. That's right! I run the court alone, like a lone wolf, chasing the ball and shooting hoops like nobody's business. Even though it's just me, people are always thrilled to see my game, and I know you'll love to hear all about it too.
Let's Break Down the Game

A pro baller has to look the part, you know? So, before the game, my owner sets me up with some great gear. I'm wearing my little doggie sneakers to keep my paws safe while when I'm trotting up and down the hot asphalt. And of course, I'm also wearing my jersey! Don't I just look cute in my vest? It's also super important that people can identify me, once I start expanding the team and adding new players.
Before any game, I do a few trots to get my muscles warm and ready. Gotta do your stretches so you're at peak performance! And when the game begins, I make it a point to start with a swish shot. I can't disappoint my fans! Gotta put on a show for them. Keep a close eye on me – you might learn something yet if you want to get some game like me!
That's always followed by another swish shot. It's part of the routine, so it's like muscle memory to me. Then I fly up in the air and catch the ball with my mouth. Another swish shot! I'm making it rain, baby! If you want to see just how good I am, you should watch me jump up and catch the ball in slo-mo. Man, it looks so impressive.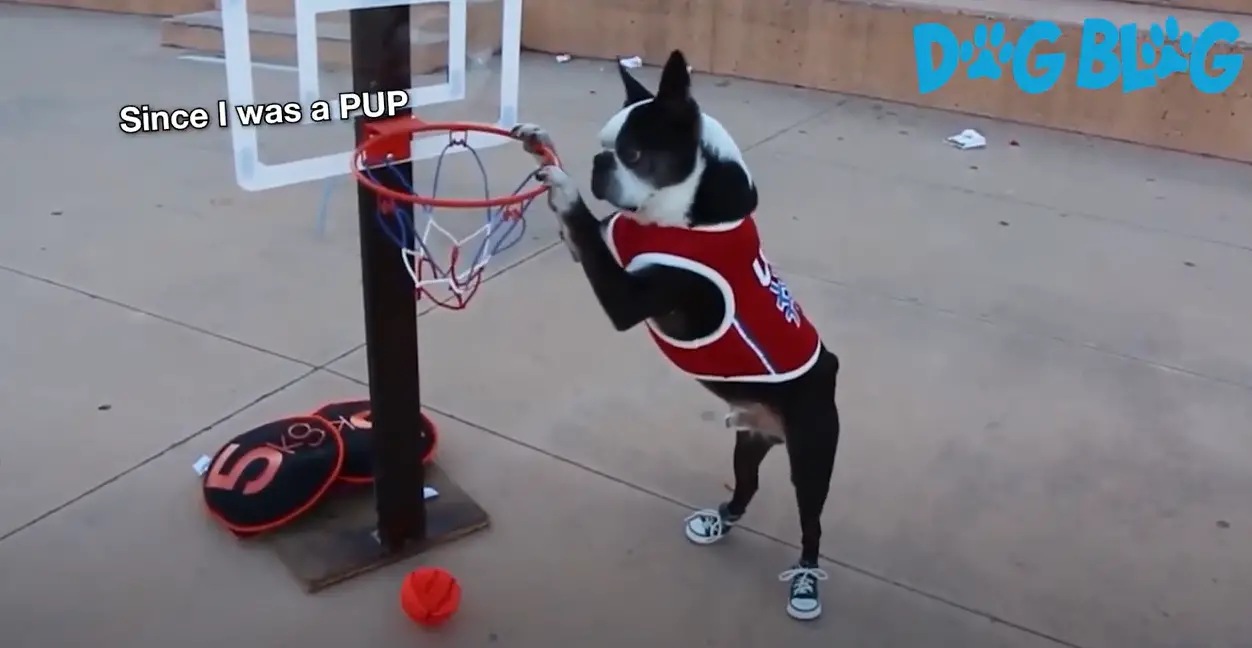 Next on the docket is a slam dunk! People love the slam dunks. And I gotta say, I always feel like Shaq when I do them. And it's never just one, either! It's one, then another one, and another one, and another one. Automatic for me! All I do is win, win, win and I'm not gonna stop.
How I Became A Champion Ball Player
Well at this point you've probably guessed I'm no stranger to the basketball court. I have been shooting hoops ever since I was a tiny pup, so what I've got is a combination of talent, hard work, and a great, loving owner. I'm lucky to have an owner that shares my love for the ball.
They have been there from the start and stuck with me through many training hours. They even made me this cute outfit that makes me look and feel like a real champion.
We are always hitting the neighborhood court every chance we get, and my owner is always there on the sidelines, throwing me the ball and cheering as I catch it and make the shot. My owner is my biggest fan, and I always want to make them proud by jumping as high as I can and shooting as many hoops as possible.
Man, I love my owner, and I love playing ball. It's given me so much purpose in my life, and I love how people gather around to watch and smile at my moves. Whew! Boy, I'm tired after another game. Now it's time to chase some treats to keep my energy up.
I hope you have enjoyed watching my game. Bye! See ya around the court.