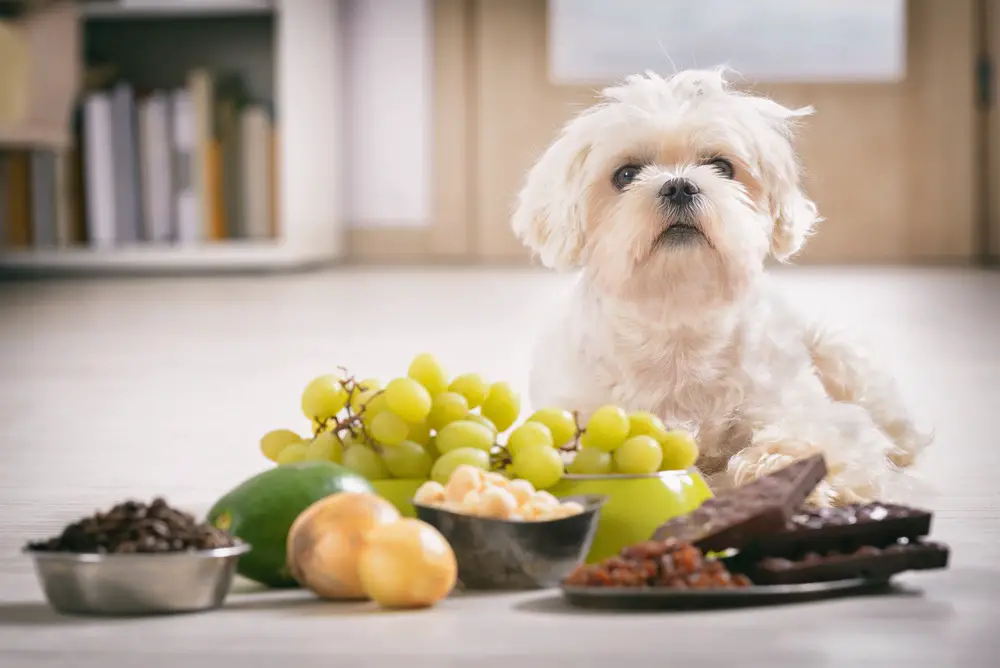 Dried mango is a yummy treat for humans that can last much longer than the traditional fruit.
In case you hadn't heard, dogs love all things delicious – whether they're allowed to eat it or not. 
Today, I – Lucky the labrador – will be taking you through whether we dogs can eat dried mango or not. Well, whether it's safe for us to consume.
If you have a dog, you'll know that we love to eat whatever's in sight no matter what the consequences are. 
Many fruits and vegetables can be given to us dogs – in moderation, of course – as a healthy alternative to our treats.
But is dried mango one on the safe list or is it better to keep it stored well away from our noses? Let's find out. 
Is dried mango bad for dogs?
Yes, dogs can eat dried mango and enjoy it thoroughly. Mangos are an excellent source of vitamin A, C, E, and B6. They're also high in fiber, potassium, and antioxidants that can benefit our health greatly. 
Not only that, but mangos have been shown to lower cholesterol, boost our immune system, improve digestion, aid eyesight, and decrease inflammation in our muscles. Of course, this is all down to serving the mango in moderation. 
Mango still has a lot of sugar within it, and dried mango tends to have a more concentrated amount of sugar in each piece.
Drying mango also reduces some of the benefits that I mentioned before, so dried mango is not the healthiest option for dogs who love mango. 
Is dried fruit OK for dogs?
The majority of dried fruit is okay for us dogs to consume, but raisins and sultanas should be avoided at all costs. Grapes are highly toxic to us and that doesn't change just because the fruit has been dried, unfortunately!
However, other dried fruits such as mango, pineapple, jackfruit, bananas, and apples are perfectly safe for dogs.
Remember, it's all about moderation! I cannot stress enough that too much of one thing is a silent killer with dogs. 
So maybe your dog won't die from eating too much of a good thing, but it can lead to adverse effects compared to the original health benefits that you were promised. 
For example, eating too much-dried mango can lead to diarrhea or obesity due to the high sugar and fiber content.
While you might have thought that we would be benefitting from eating mango so you gave us the whole bag and now we're acting funny, this can be more dangerous than good. 
Can mangos kill dogs?
You should be careful when feeding your dog mango to ensure that there are no harmful chemicals that might harm us. This includes washing the fruit properly so that you don't transfer any chemicals from the peel to the flesh. 
You also always need to remove the pit from the mango, as this can contain cyanide which is toxic to dogs. There shouldn't be enough cyanide in the pit to do any major damage to a large dog, but small dogs can feel the effects much harsher. 
Mango pits can also be a choking hazard for our dogs and if we swallow one we might even suffer from an intestinal blockage. This can leave us feeling horrible and you with a hefty vet's bill – and that's if you catch it early enough. 
So, eating mango cannot kill dogs. However, the pit can cause choking or block our intestines which can be very dangerous to us. Just be wary of this when preparing the mango. 
Luckily, dried mango doesn't come with the pit so we don't have this issue. However, too much-dried mango can give us too much sugar and lead to illnesses such as obesity and pancreatitis.

Does mango make dogs sick?
As I've already mentioned, too much of a good thing is a real concern when it comes to mango.
Feeding us too much mango can lead to diarrhea and an upset stomach, and we might even throw some vomiting in there too. 
This is due to the high sugar content that we dogs are not used to. Dried mango often contains more sugar than fresh mango as well, as it's more concentrated in each piece.
So, smaller amounts of dried mango should be given than if you were to be feeding us fresh mango. 
Mango in moderation should not make your dog sick, and they'll be very glad of their unusual treat. 
How much mango can I give my dog?
Mango should only be given to us dogs in treat-size pieces, and we shouldn't have too many pieces either.
Smaller dogs will need to eat smaller amounts of mango per day as their smaller bodies will feel the adverse effects harder than us large dogs. Big dogs for the win! 
Dogs should only be given one or two pieces of mango a day, and the smaller the dog, the smaller the pieces should be. 
This can be a waste if you don't want to eat the rest of the fruit, which is why dried mango is much more popular for a dog treat. Again, only one or two pieces should be given a day. 
Even if these pieces are smaller than you would cut from fresh mango, the higher sugar content in the dried mango needs to be monitored.
Small dogs should only have one, or even half, of a piece of mango. Larger dogs can have one to two pieces a day. 
Summary
Thanks for reading our answers to your concerns about dried mango. In moderation, dried mango is a healthy snack for dogs as opposed to high-calorie treats.
There are a few concerns about feeding dogs fresh mango, such as the pit, but these don't apply to dried mango. 
Remember that smaller dogs will need smaller pieces of dried mango than larger dogs. Feeding us the right amount of dried mango will keep us feeling the benefits of the treat rather than the adverse effects.