Regular readers of this blog will understand by now that I am a happy go lucky dog. I am a member of a caring family that always looks out for my best interests. The list of things that I love doing with them seems endless. But that doesn't mean I love everything. I do not like taking a bath, even though I'm usually pretty relaxed after, and often wonder why I always have to make a big fuss about it. I know that a bath is an essential part of my well-being, so I guess no matter how much I don't like it, I have to put up with it, even if it is only to keep my parents happy.
Why Dogs need to Have Baths
Even dogs that spend most of their time indoors need to have baths. I am not one of those dogs. I would much rather spend all of my time outside chasing squirrels, playing ball, rolling around in the dirt, or simply lounging in the mid-day sun. My abundance of time spent outside means that I get baths quite often, even if I don't think I need one.
I'm sure my mom and dad are obsessed with cleanliness. They must be; they clean themselves every day. Talk about overkill. Thankfully, I don't need a bath every day. That would be crazy. Sometimes, in the summer, if I'm out swimming or rolling around in the dirt, I get a bath once a week, but it's usually once a month, and that is more than enough for most dogs.
I understand why my parents do it. There are a lot of harmful things in my environment that I can pick up without even knowing it. It's possible as I run around that I pick up harmful grasses or even parasites that can stick to my fur or in my paws and could make me very sick or cause reactions that could lead to serious health problems, and nobody wants that.
Baths are also a way for my parents to keep in tune with my health. Bath time is a great time to check for ticks or even check my skin and make sure that I don't have any irritations that I can't tell them about.
Like it or not, there are all kinds of benefits to having a bath but having one too frequently can also cause issues. Bathing too often can remove the essential oils in our coat and lead to dry, itchy skin. So, yeah, it's important to have baths, but it's also important to not have too many of them. It's a fine line that our parents need to walk.
Why Not Just Use People Shampoo?
No, people shampoo is not dangerous for dogs, and you can use it in a pinch if need be, but it is not recommended. Because shampoo for people is not formulated for dogs, it often contains chemicals and scents that are not good for a dog's skin and can easily remove our essential oils and even cause serious skin irritations. If it's a bathing emergency, like when we get into something we shouldn't have and need a bath immediately, it's ok to use people shampoo. But it's not something that you should use regularly.
How to Bathe a Dog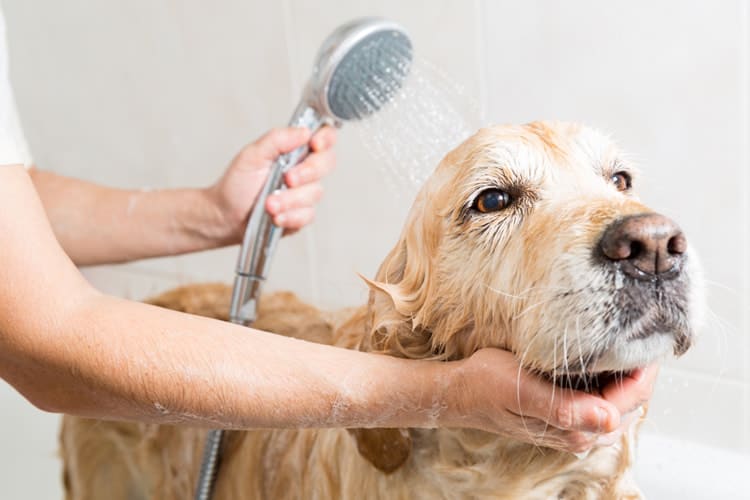 Humans and dogs alike want bath time to be a pleasurable experience. If bath time is stressful for either party, we are less likely to do it. Here are some tips for bathing us.
When it comes to having a bath, small dogs have it made. They can just be picked up and put in a sink. Bigger dogs like me aren't so lucky. On a nice sunny, warm day we can be bathed outside using the hose, but the day should be perfect. If it's too hot, the combination of the hot day and the cold tap water could shock our system. The best thing to do is either put us in the bathtub or get a dog-specific bathtub.
Clumps of wet hair can not only hold water but can become incredibly messy, and no one wants to be cleaning up clumps of stinky, wet dog hair.
Our skin can be sensitive, and water that is too hot can easily burn us. Just like people, dogs hate being cold, so it's best to find a happy medium between hot and cold
Leftover shampoo residue can cause our skin to dry out and become itchy and irritated. Our hair can hold onto a lot of water and shampoo, so multiple rinses are necessary to make sure we're all cleaned up.
Sure, groomers will blow dry us, but their blow dryers are designed specifically for dogs. The heat from a blow dryer can cause our skin to dry out and get irritated. Unless you have a dog-specific blow dryer, it is best to dry us off a bit with a towel and then let us air dry.
Bathing can be stressful for all parties involved, but we're more likely to stay calm if our owners stay calm and reassure us that everything is ok. The odd treat doesn't hurry either.
Puppy Shampoo Reviews
A dog's shampoo needs might change as they grow, but right now, I want to start with my top picks of 2020 that are perfect for a puppy's skin. Since we've taken a quick look at bathing, there's nothing left to do but have a look at some shampoos.
1. Burt's Bees for Puppies 
Burt's Bees for Puppies is formulated for young dog's skin, with no added chemicals that could cause skin irritations or allergic reactions. As with people, young puppies can have allergies that our humans may not yet be aware of, so the less we can be exposed to allergens, the better. The scent-free formula also helps dogs stay calm during bath time. We all know how hyper puppies can be, but what many don't realize is that certain scents, while they may not necessarily be harmful to a pup, can trigger something in them and cause them to react negatively. This shampoo leaves puppies smelling fresh and clean instead of simply masking the odor with a stronger scent. You can also use this shampoo on adult dogs, which means that unless a dog has specific needs as an adult, there is no need to change shampoos as the puppy gets older.
Pros 
Very little shampoo is needed meaning the bottle lasts a long time
Unscented and easy on a puppy's skin
Strong enough cleaning ability to be used on adult dogs as well
Moisturizes skin
Tearless formula doesn't sting a puppies eyes
Cons 
With no scent masking agents, if the puppy is not properly dried after the bath, it may leave an unpleasant wet dog smell
May not be strong enough for dog breeds that typically have an oilier coat
2. Oster's Oatmeal Naturals Puppy Shampoo 

Oster's Oatmeal Naturals Puppy Shampoo is Ph balanced with puppies in mind. Veterinarians recommend oatmeal to relieve dry and itchy skin, and Oster's uses 100% all-natural oatmeal. Puppies and adult dogs are prone to skin irritation and allergies, and this oatmeal formula does a great job of not only preventing skin conditions but soothing existing ones. Other ingredients like wheat protein also help to improve the quality of a puppy's coat, and the baby powder scent provides a pleasant clean scent without being overpowering.
Pros 
Pleasant long-lasting baby powder scent
Use of oatmeal helps to prevent skin irritation
Ingredients like wheat protein and rosemary essential oil improve the quality of a puppy's coat
Contains no added dyes or alcohol often found in pet shampoo
Low price means excellent value for a quality shampoo 
Cons
Very liquid consistency means more shampoo may need to be used to get a completely clean
Even though oatmeal prevents and eases existing skin allergies and irritations, dogs can be allergic to oatmeal, and as rare as it is, it could have adverse effects
3. Earthbath Natural Puppy Shampoo 
Earthbath Natural Puppy Shampoo uses natural cleansers formulated especially for a puppy's sensitive skin. It is an ultra-mild, tearless, and pH-balanced shampoo that doesn't irritate skin and leaves a puppy's coat shiny, healthy, and soft. Earthbath shampoo is safe for any puppy over six months old and will not wash off topical flea applications. This shampoo does not contain any harmful soaps, gluten (something that dogs can often be allergic to) or synthetic dyes, or other synthetic additives. Bathing a dog too often can lead to dry irritated skin, but Earthbath Natural Puppy Shampoo is formulated not to dry out a dog's skin and is perfect for those puppies that require frequent bathing.
Pros 
Gentle soap-free formula will not dry out the skin
No harmful chemicals, perfect for sensitive puppies
Does not remove topical flea applications
Tear-free
Aloe-vera helps to soothe existing skin irritations 
Cons
Oiler than other similar products
Requires thorough rinsing to remove all residue
4. Pet Pleasant Oatmeal Shampoo 
Designed to be hypoallergenic Pet Pleasant Oatmeal Shampoo is perfect for a puppy's sensitive skin. This vet-recommended shampoo uses high quality, natural ingredients that provide a quality clean and eliminates odors while restoring the natural essential oils of a puppy's coat and eliminating skin irritants. Pet Pleasant Oatmeal Shampoo is more effective and gentler on a puppy's skin than many other shampoos on the market. Lavender is a calming agent, and the scent of the lavender essential oil helps to calm and soothe any puppy, making bath time a less stressful experience for everyone involved.
Pros 
Soothing and calming lavender scent is not overwhelming
Clinical formula is vet recommended
Colloidal oatmeal formula is soothing to the skin
Helps restore a puppy's natural oils
Can also be used on adult dogs that are prone to skin allergies and irritations
Cons
More expensive than similar shampoos on the market
Lavender scent may be overwhelming to dogs that are sensitive to smells
5. Rocco and Roxie Dog Shampoo 
Rocco and Roxie claim that this shampoo is 'the bath time equivalent of a belly rub' and they are not wrong. Even for a dog like me who doesn't have sensitive skin, this shampoo was incredibly soothing, and I can see how the hydrating, healing blend could do wonders for a dog with sensitive skin or a dog with existing skin issues. Rocco and Roxie Dog Shampoo includes ingredients like oat extract, olive oil, shea butter, chamomile, and aloe, all of which not only soothes irritated skin but help restore the oils in our coats while providing a calming, soothing bath experience. On top of all that, the shampoo provides a deep clean while remaining easy to rinse, a combination that many other similar shampoos fail to provide.
Pros 
The combination of quality, natural ingredients provide a soothing, calming bath experience
Tear-free formula means no stinging of a puppy's sensitive eyes
Light, pleasant smell will not be overwhelming
Restores essential oils in a puppy's coat and leaves it soft and fluffy
No harsh dyes or chemicals
Rocco and Roxie provide a 100% satisfaction, money-back guarantee 
Cons
Very expensive when compared to other similar products
Product is thick and does not lather like other products, making it a little tougher to use
6. Seamus Sugar Cookie Tearless Puppy Shampoo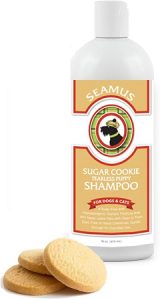 Because puppies can be hyper-sensitive to things like smell, or harsh chemicals that can irritate eyes and skin, bath time can sometimes be a traumatic experience for young dogs that are not used to the idea. Seamus Sugar Cookie Puppy Shampoo is made from real tearless baby shampoo and is then specially formulated for puppies. With no harsh chemicals or soap, this shampoo is strong enough to deliver a deep, thorough clean while not irritating your puppy and is safe to use regularly. The sugar cookie scent not only makes a puppy smell great right after a bath but also helps to control future smells. The unique use of Pharmacosomes Technology allows the ingredients of the shampoo to penetrate deeper and release their functional ingredients over a longer period.
Pros 
Hypoallergenic formula means no adverse reactions
Free of harsh dyes and chemicals
Pleasant sugar cookie scent that isn't overwhelming
Keeps skin and fur moisturized for longer periods when compared to other similar products
Soap-free formula means a tear-free experience
Cons
Shampoo is somewhat watery and may require more per use than others that are thicker and lather better
A Few Things to Keep in Mind When Giving a Puppy a Bath
Puppies have sensitive skin. Try to avoid a shampoo that contains harsh chemicals 
Not only is their skin sensitive, but so too are their eyes and their sense of smell. Try to use a shampoo with a tear-free formula as well as one that doesn't have any overpowering 
Try to bathe a puppy as early in their life as possible and as frequently as needed. The sooner and more often you bathe a puppy, the sooner they will get used to the entire experience, and the future of bathing will be a much more pleasant experience. 
Baths can be an overload to a puppy's senses and can be a traumatic experience for them until they start to get used to it. We will freak out, but the calmer our humans remain, the calmer we will become.
We established earlier that I am not a fan of baths. It is a common thing, many dogs are not, but that should not mean that we should avoid them altogether. It's important for the health of a puppy and of a grown dog that we get bathed frequently, even if it isn't the easiest of experiences for any of the parties involved. The earlier we are introduced to a bath in our young lives, the better it will be for us, and the more we do it, the more we will get used to it and maybe even start to like it. The less traumatic the experience can be for us, the better. Hopefully, anyone of the shampoos we looked at today can be, at the very least, a small portion of the equation needed to make that bath time experience a good one.