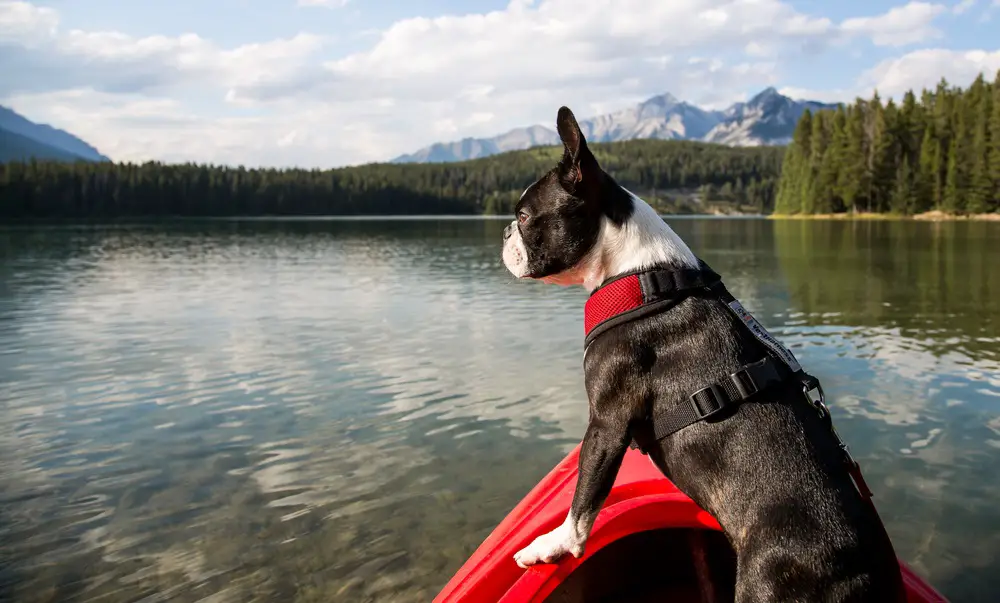 Walks are great, I love walks. You'll never hear a bad woof about walks from me.
But sometimes, just every now and again, it can be fun to do something a bit different. We may be smaller, but us dogs are just as brave and can enjoy kayaking just as much as you do!
Kayaking! Yep, you heard me rrright! There are some pups, like me, who make excellent kayak companions as dogs are blessed with great natural balance thanks to a low sense of gravity.
Plus, there's the fact that most of us have had plenty of experience with big sticks.
At the very least we won't chew your ear off or whine (too much) about getting wet. I paw-omise! That's why I think you should invest in a kayak for dogs that will be suitable for your own canine kayak buddy so that you can schedule some quality bonding time.
Because I'm a good dog, and because I think every dog everywhere deserves a fun day out on the water with their human, I've looked at 5 of the best kayaks so I can give you my honest-to-dog opinion on whether or not they'd be a good fit for you and your furry friend.
My human sometimes has a hard time understanding me the first time, it can be like I'm barking at a brick wall!
So, to make sure I've pointed your nose in the right direction, I've also pawed together a buyer's guide that should help you with what to look out for.
Now, pay attention, because I know what I'm barking about.
Top 5 Best Kayaks That Are Suitable For Dogs
[amazon fields="B00177FIJ8″ value="thumb" image_size="large"]
My top choice (and remember I have a personal stake in this) is the Intex Challenger 2-person (or, 1 person, 1 pup) Inflatable Kayak.
It's perfect for adventurous dogs who like to get their paws wet and its sporty, streamlined design makes it well-suited to choppier waters.
The puncture-proof vinyl helps to protect the sides of the kayak from stray paws and claws as your dog gets in and out.
It's also bright green and resistant to UV-damage. This extends the kayak's lifespan so you and your dog can make lots of treasured memories together.
Provided your pooch hasn't been hitting the snacks too hard, the 400 lbs maximum weight limit means that this kayak can comfortably handle the weight of large dog breeds.
There's plenty of space and it's nicely stable so your pooch is less likely to trip over their own paws.
I know how impatient I get when my human calls me for walkies then spends too long getting themself ready, so the fact that this kayak comes with everything you need so you can get going almost immediately really gets my tail wagging.
What are you waiting for?!
Pros
You'll be able to transport it with ease thanks to it being relatively lightweight.
Phew! Paddling is made much easier thanks to the kayak's design – our paws get tired too, after all.
You'll be safer when kayaking in the dark or foggy weather thanks to its vibrant color as this drastically improves your visibility.
It comes with accessories that can enhance your kayaking experience.
Cons
It can be a bit of a workout to inflate the kayak as the pump that's provided with your purchase is manual.
[amazon box="B00177FIJ8″]
[amazon fields="B00A7EXF4C" value="thumb" image_size="large"]
If wind and waves are a frequent feature in your local weather forecast, then the Intex Explorer K2 inflatable kayak is a slightly cheaper alternative from the same trusted brand. And you know us dogs are big on trust.
The cockpit is deep enough that medium-large dogs will fit comfortably in this space whilst allowing them to release their inner puppy as they ride up front where all the action happens. Like the first kayak I told you about, it has a maximum weight limit of 400 lbs.
It also shares the same safety-through-color with bright yellow outer sides which will be highly visible in the event of an emergency.
However, it differs from the first option because it's more suited to calmer waters such as lakes or mild rivers.
Even on all fours, which for us dogs is all the time, we'll be able to move around the kayak with ease thanks to its spacious design and the inflatable l-beam floor which is rigid for extra stability.
There's also a skeg included for directional stability, although this can be removed.
Pros
If you run into issues you can make quick repairs thanks to the repair kit that's included.
It's convenient to travel with as it's lightweight and compact in size and comes with a carry bag included.
Inflation and deflation times are impressively short so you don't have to wait around.
Cons
Getting in and out is sometimes a bit awkward due to the shallow bottom.
[amazon box="B00A7EXF4C"]
[amazon fields="B001ASRVDK" value="thumb" image_size="large"]
If you want to invite a third person to come out with you and your dog, then you'll need a kayak that's big enough to accommodate all 8 pairs of legs.
The Sea Eagle 370 Pro is great for larger expeditions and can handle up to 650 lbs of weight, yet it weighs only 32 lbs itself.
Don't assume that such a light overall weight makes it a less durable option! The directional stability, speed, and tracking are all improved thanks to 2 skegs on the bottom of the kayak and the sides have a good amount of height which prevents your dog from going overboard.
One of the things I love most about this kayak is that the seats are adjustable, so your dog can perform the traditional circling of a spot before they decide to sit and you can alter the chair's position accordingly.
Plus, the Deluxe Kayak seats are super comfortable, and what dog doesn't love their home comforts?
Pros
When you're back on land, it's easy to pack up the kayak as it reduces to a fraction of their inflated size for easier transportation.
The efficient hull shape is made from thick 38mm Polykrylar which helps with durability and directional control.
Two molded kegs help with tracking so your pooch isn't thrown around inside the kayak when you run into ruff water.
Cons
Despite being relatively light, the size of this kayak can make it tricky to carry if you're on your own.
It can be tricky to get the bottom material to become taught.
[amazon box="B001ASRVDK"]
[amazon fields="B072JHDN9M" value="thumb" image_size="large"]
Now, I know I don't have the best understanding of this whole money concept, but if you're happy to part with a little more of your cash then the Driftsun Voyager Tandem Kayak is definitely worth your attention. Until you get distracted by squirrels, that is. Mmm, squirrels…
You won't have to test how long your pup can hold 'sit' and 'stay' for because you can go from unboxed to inflated in about 5 minutes, and the included double-action pump saves your poor paws from too much manual labor with a deluxe high flow.
No matter how long it's been since your dog last took a trip to the groomers, the heavy-duty PVC tarpaulin bottom protects the kayak against punctures from wayward claws for long-lasting durability.
It also has a nose to challenge my own as the rocker profile and pointed bow help you remain in control in both calm and choppier water.
Pros
The double-threaded Boston valves reduce the risk of leaks occurring.
It's a comfortable choice as the EVA-padded seats offer high-backed support.
A removable tracking skeg can improve your directional control.
Cons
Although there's more than enough room for you and your small-medium dog, it can err a little on the short side for 2 tall humans.
[amazon box="B072JHDN9M"]
[amazon fields="B01N0RPFHJ" value="thumb" image_size="large"]
Last on our list of canine-friendly kayaks is this outdoor option from Brooklyn Kayak Company (BKC).
It's ideal for family fun and comes with everything it needs to ensure a safe trip on the water, whether you're on a lake, ocean, or river.
Designed with stability in mind, you shouldn't have to worry about your dog being bounced around inside the kayak. It can handle up to 595 lbs too, so you don't need to be stingy with the treats. And I'm not just saying that!
The watertight storage hatches are actually the perfect spot for storing your dog treats (and any other equipment you humans deem important, I guess) and they're within an easily accessible reaching distance.
Pros
If you fancy a bit of fishing while you bond with your dog this kayak features built-in rod holders.
The durable polyethylene material reduces the risk of damage.
Additional stability means the kayak is less likely to flip over.
Cons
It's not so much an issue for dogs as we can always rest on our hind paws, but the seats don't offer you humans much back support.
[amazon box="B01N0RPFHJ"]
Best Kayaks That Are Suitable For Dogs Buyer's Guide
Even when you're presented with 5 great options right in front of you like the kayaks for dogs we've reviewed above, it can still be a difficult call to make.
Take my woof for it – you should see the mayhem that ensues when I'm trying to pick a toy from my toybox. And my human wonders why I always end up pulling out 4 or 5 toys at once to play with? I'm indecisive, ok!
And from your perspective, it's not like you can just ask your dog what they'd prefer, right? (See what I just did there, by the way? Put myself in your shoes?
That comes from years of chewing them). Wrong! That's where I come in. I'm here to tell you exactly what a dog, likes, wants, and needs in a kayak if they're to have a happy, comfortable experience on the water.
Just like my puppy training, we'll start with the basics. Consider each of the following factors in your decision when you're thinking about which dog-friendly kayak to go for.
What's The Water Like?
The aim is usually to not get wet, in the sense that it's typically assumed that things are not going too well if you end up capsizing your kayak, but sometimes, ending up in the water is half the fun of it anyway. At least it is for me! My humans, on the other hand, may not agree.
Before you can choose what type of kayak you'll need, it's important to know what type of water you'll be kayaking on most of the time. This can help inform your choice of kayak so that it's best suited to the environment and the conditions you'll be kayaking in.
For example, will you be sticking to the shallows of your local lake or would you prefer to ride the waves of the wide-open sea? Does rapid rafting sound right up your street or does crawling along the sea's calm surface sound like a pace you're more comfortable with?
What Types of Kayaks Are Suitable For Dogs?
While certain kayaks are clearly marketed as being suitable for us dogs, there are hundreds of other kayaks that are just as safe despite not being a designated dog-friendly option.
Recreational Kayaks: These are typically enclosed and are perfect for kayaking on calmer waters like lakes and lazy rivers. The cockpit area is large enough for a small-medium dog to fit and sit comfortably, and it has wider hulls for added stability so we don't accidentally go overboard!
Sit-On-Top Kayaks: These are open watercrafts that provide enough space and stability for larger dogs and hounds, as well as any breed that might struggle to get in and out of a recreational kayak. You can squeeze up to 8 or 10 pairs of legs in one of these kayaks (as long as 2 of those pairs belong to your pup) as well as additional storage space for essentials, like my treats bag!
I hate to admit it, but as well as the kayaks that are better suited to kayaking with a canine companion, there are also a few styles that are best left to the humans, including:
Sea Kayaks: While these are ideal for rougher waters, they're quite a narrow choice for us doggos which makes it more difficult to spread our paws. And if, like me, your dog has been overdoing it on the treats lately… Well, if I don't fits, I don't sits.
Whitewater Kayaks: As one of the smallest types of kayaks, these are the least suitable for dogs due to the limited room we have to move around in. They're designed for one person to use so there's no chance of fitting in even a small puppy.
What Features Should You Consider When Buying a Kayak For Dogs?
Regardless of what type you end up choosing, to ensure the safety of both you and your dog there are a few essential features that your kayak should have. I've listed them here for you:
Durable Material
Having tough claws comes in handy in plenty of situations, like when I'm digging for bones in the backyard or when I have an irritating itch just behind my ear that I need to scratch.
However, my claws can also get me into trouble, despite being beyond my control. It's not like I can pick up the phone and book an appointment with the groomers myself, you know!
Sometimes when I'm excited and when I'm getting in and out of my human's kayak, I can accidentally scratch the sides.
I'm pals with this puppy in my neighborhood who likes to sneak in a little nibble here or gnaw on a corner there when their human isn't looking, so it's important that your kayak is durable enough to withstand this kind of treatment. Puppies, ey.
Plenty of Wiggle Room
As much as we love cuddling you and curling up on your lap to show our affection, even in a dog's life there's a time and place for it.
When we're out on the water, most of us would agree that it's better to ride shotgun so we can stretch out, but if your dog is nervous, (as even I still do sometimes), they might prefer to stay by your side which is also perfectly fine.
Just make sure that your dog always has enough room to comfortably wag his tail and you should be fine, although this depends on the breed of dog and the water you're kayaking on.
Stability Over Agility
When you go out in your kayak, you understand and accept that there's a chance you might fall in. As I mentioned earlier, it can be part of the fun.
However, not all dogs share my love of the sea, so being thrown out of a kayak, even occasionally, could be disorientating at best and traumatic at worst. If your dog doesn't like the water, maybe stick to walking for now.
The wider your kayak, the more stable it will be when you're on the water which means there's less chance of being capsized. The hull should cause your kayak to float better and in general, you should be looking for one which is durable enough to remain the right way up.
What Safety Tips Are There For Kayaking With Your Dog?
Dogs just want to have fun, just as much as you do, but we can only do this when we feel comfortable, safe, and secure.
When there's only yourself to think about, it's easier to make snap decisions in response to the situation going on around you, but when there's also a dog to consider you need to make sure you're fully prepared prior to leaving the shore.
Here a quick rundown of what safety tips you should know for kayaking with your dog.
Training and Acclimation
Training is an important part of any dog's life, as it teaches us the words and phrases we need to know so we can listen to our humans when the situation calls for it.
Basic commands like 'sit', 'stay', 'get in', and 'get out' are all going to be useful instructions that can keep you both safe, and my human has used them hundreds of times so I can be a good companion by knowing exactly what to do.
It's also a good idea to let your dog become used to the kayak before you try going out on the water so they can become familiar with it.
Use a Life Vest
Even if your dog is like a fish in water, a life vest is always a good idea for both you and your pooch.
I know I personally feel a lot safer when I have mine on, but it's extra important if your dog is heavy, elderly, or a weak swimmer.
Don't Forget The SPF
Just because we're covered in fur doesn't mean we're protected against the sun's rays, so remember to slather on the SPF in areas where our skin is more exposed to prevent a nasty sunburn.
Do NOT Tie Your Dog to The Kayak
It might seem like a good idea to tether your dog to your kayak, but we could end up being trapped underneath the kayak if it tips over, or the leash could get wrapped around us, so this is actually pretty dangerous.
Besides, even in the event of an accidental overboard, if having an extra pair of legs and paws doesn't come in handy for swimming then what are they even good for?
Come to think of it, they're pretty good for scratching too…