Love is the emotion that a woman feels always for a poodle dog and sometimes for a man – George Jean Nathan
Bonjour mes amis! Perfection is never an easy thing to aspire to, but being a poodle I'm a little closer to it than most of my fellow dogs are.
Intelligent, handsome, and hard-working, my natural agility and dedication to my owners mean that I excel in just about everything that I can turn my paws too.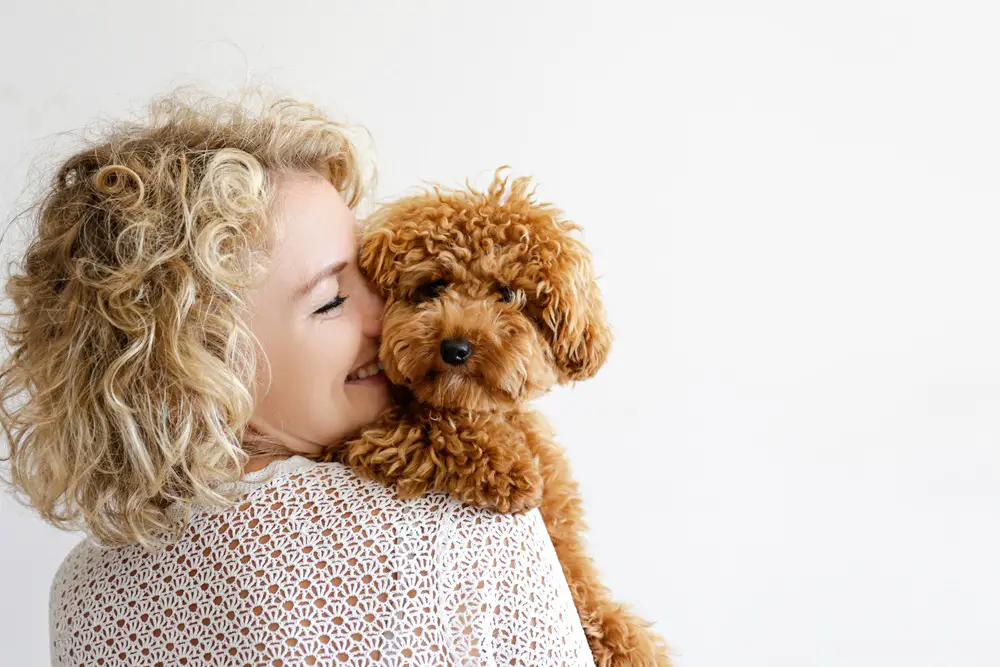 Whether I'm competing in sports and dog shows, herding sheep and cattle, tracking the squirrels and rabbits that I love to chase, serving as an assistance dog, or playing with my family, there isn't a single canine challenge that I can't conquer.
But, without the right food, I wouldn't be able to enjoy my adventures or work as hard as I do.
I enjoy the finer things in life and need a diet that can help me to stay fit, strong, and active, ensure that my gorgeous coat is always healthy and in pristine condition, and has to adhere to my impeccably high standards and expectations.
As I need constant mental and physical stimulation and can easily become bored if I don't receive either, I need a diet that will excite my taste buds and make me prick up my ears every single time I hear my bowl being filled.
I expect the best, and nothing but the best will satiate and satisfy my appetite for life and my dinner.
Finding the food that ticks all of those boxes and meets my demanding criteria isn't easy and can drive some humans to distraction.
That's why I've put together a list of five of the best foods that I and my miniature and toy cousins adore so that you don't have to run around like a headless poulet trying to find the right food for your most cherished boy.
I told you, I like to work hard and that's why I've done all of the work for you, so all you have to do, is fill your poodle's bowl with the best food you can. Bon chance…
[amazon fields="B0037TUHAY" value="thumb" image_size="large"]
Do you see the gorgeous creature that adorns the front of the packet? That is I, Louis the standard poodle.
Okay, so maybe it's not me, as that dog isn't quite as good-looking as I am, but as it has a picture of one of my brothers on it, this dry food sets the taste and nutrition bar incredibly high.
Luckily, it surpasses both, and I wouldn't have expected anything less from a brand that was born in France and is dedicated to the welfare of dogs, both big and small, everywhere.
Royal Canin has made sure that this food was formulated to cater to all the needs that every poodle has, and contains a precise protein content, that uses poulet as its source, to help me to maintain my muscle tone and make sure I stay lean, healthy, and strong.
And because Royal Canin wants to make sure that I always look dashing, bold, and heroic their poodle-friendly food contains the fatty acids and fish oils that my coat and skin need if they are to remain in peak physical condition.
The same fatty acids also ensure that my fur, which continually grows and always needs to be groomed, is always shiny, warm, and soft when you stroke me.
But that's not all, as the clever scientifiques at Royal Canin have crafted the size and shape of this kibble to conform to the contours of my mouth, so chewing it is always a pleasure. One mouthful is never enough, and I always ask for and usually get, a second bowl full of this wonderful food.
Pros
Protein Perfection – This food has been purposely formulated to contain the exact amount of protein and calories that I need to have enough energy to bounce through my whirlwind life while helping to ensure that I maintain my lean, muscular figure and strong build.
Looking Good – The precise blend of Omega 3 fatty acids and fish oils that Royal Canin uses helps my coat and skin to stay healthy and my thick, luscious fur to grow smoothly and evenly.
And There's More – It also includes a special blend of nutrients, vitamins, and minerals that are designed to make sure that I remain fit and active throughout my long life.
Kibble Size – And let us not forget mes amis, that the kibble has been tailored to fit the mouth of a poodle so that I can enjoy chewing it as it releases all of the proteins, oils, and nutrients it contains at a pace that allows me to easily digest and absorb all of them.
Cons
All Change – Royal Canin has recently changed the recipe of this delicious dry food, so some poodles might not find it quite as tasty as they used to. While I still enjoy it, some of my poodle freres aren't quite as enamored with it as I am. It's all about taste, and your boy will either adore it or hate it. And the only way you'll ever find out which side of the fence he's on, is by letting him try it for himself.
[amazon box="B0037TUHAY"]
[amazon fields="B077L2VYY2″ value="thumb" image_size="large"]
Not all poodles are as large and magnifique as I am, but they are still my poodle brothers nonetheless, and Tiki Dog have cooked up a storm that my miniature cousins just can't seem to get enough of.
They may be based halfway around the world in New Zealand, but their food is always fresh and only uses real ingredients, which is probably why my miniature amis enjoy it as much as they do.
Tiki Dog focuses first and foremost on delivering the sort of protein that smaller poodles need, and uses lamb, organ meat, and nutrient-rich lambs' liver to make this food, which is also gently baked to preserve its flavor.
And when it's combined with the superfoods, fatty acids, vitamins, and minerals that this food also contains, that rich, delicious lamb flavor makes my little friends' noses twitch and tails wag. Sacre bleu, just imaging the way it tastes is making me drool and I wish I had a bowl filled with it in front of me right now.
Aloha Petites is also grain-free, so it doesn't contain any of the unnecessary fillers and bulking agents like soy and wheat that can often upset a little dog's sensitive stomach, and has been designed to meet their nutritional needs at every single stage of their life.
It isn't often that I'm jealous of my smaller cousins, but thinking about Tiki Dog has made me seethe with envy. They don't know how lucky they are,
Pros
Real Ingredients – Tiki Dog only uses real ingredients and doesn't believe in using any bulking or packing agents that might ruin the way that their food tastes for their smaller consumers. And real ingredients mean real protein, and small poodles love protein.
Baked In – They, and by they I mean Tiki Dog, bake their food so that it retains all of its flavors, which will drive your little poodles wild and keep bringing them back for bowl after bowl of Tiki Dog's delicious dry food.
Superfoods – The combination of superfoods and protein that Tiki Dogs uses has been produced to deliver all of the nutrients, protein, minerals, fatty acids, and vitamins that my little cousins need at every stage of their lives. It's the whole life diet that your little best friend will adore
Cons
Slipping Through The Net – Every now and then, a package that's sailed past its expiry date has been known to slip through the Tiki Dog net, so keep a careful way on the dates of the package that you buy. And if it is out of date, don't feed it to your little boy as it could make him incredibly ill.
[amazon box="B077L2VYY2″]
[amazon fields="B007CRDSV2″ value="thumb" image_size="large"]
While I'm talking about my smaller cousins, it would be remiss of me not to mention the third member of the poodle family triumvirate, le caniche jouet, or as he's more commonly known here in America, the toy poodle.
And Nutro has created a food that's been made to give him the zoomies and put him on the same path to poodle perfection that I'm already strolling down.
Made from a trio of delicious proteins (chicken, lamb, and salmon) and Nutro's patented blend of fifteen superfoods, the recipe for which is kept locked in a safe in their headquarters far from the prying eyes of curious poodles, Ultra has been formulated to provide complete and balanced nutrition for toy poodles at every stage of their lives.
Three types of protein-rich meat? My tiny cousins really are lucky little chien!
And because Nutro knows how sensitive toy poodle tummies and digestive systems can be, they made sure that their food is grain and artificial flavoring and color free.
So there are no bulking agents like corn, soy, and wheat that could make the little ones ill in this food, just real ingredients that are used to help them be the best little caniches that they can be.
Pros
Real Protein – Ultra uses a high-density concentration of three different proteins to ensure that your toy poodle gets all the energy that he needs and will always be a strong, lean little chien.
Superfoods – The combination of fifteen different superfoods in every packet of Ultra, is designed to make sure that your teeny tiny best friend gets all the nutrients, fatty acids, minerals, and vitamins that he needs to thrive and live his best life every single day.
All Natural – It doesn't use any artificial colors or preservatives and doesn't contain any wheat, corn, or soy, so it won't make your little boy ill. It's the best way to feed him and make sure that he stays healthy and happy,
Cons
Nothing Lasts Forever – It seems that Nutro has recently changed the recipe that they use to make this food and it's made some petits chiens ill, so it might be worth talking to your veterinarian before switching your best buddy to a diet that's completely centered around and upon Ultra.
[amazon box="B007CRDSV2″]
[amazon fields="B00JN9GCE2″ value="thumb" image_size="large"]
Any humans that dedicate their lives to making food for their best friends out of love and concern for our wellbeing will always find a special place in my heart, and as it was the love of their special boy that set Blue Buffalo on their path, their food instantly appealed to all of my canine instincts.
The fact that their food is, well c'est incredible was and is an added bonus.
Every Blue Buffalo recipe always starts with the thing that I love the most, a meat-rich protein, and their Wilderness menus are made to appeal to every dog's inner wolf.
I've never met my inner wolf, but if this is the sort of food that he likes, I can absolutely confirm that, just like me, he has exquisite taste.
As well as being rich in Salmon that has all of the fish oils that my already high canine IQ needs to push itself a little further,, Blue Buffalo's Wilderness recipe also contains glucosamine and chondroitin to make sure that my joints remain supple and my bones are strong and has all of the Omega fatty acids that my skin and coat need to remain healthy.
Wilderness also contains Blue Buffalo's super special nutritional weapon, their top-secret LifeSource bits. Even though I'm incredibly intelligent, I can't even begin to understand the science that created them, but I do know that they contain all of the vitamins, minerals, and antioxidants that I need to stay fit and healthy throughout my life. It's practically a perfect poodle food.
Pros
Bring On The Protein – I love meat-rich food, and Wilderness includes fresh-caught wild salmon which is packed with all of the fish oils that my already big brain needs to get even bigger
Fatty Acids – Wilderness has all of the Omega fatty acids that my skin and coat need to stay healthy, look good and keep me warm. What more could a handsome boy like me need?
LifeSource Bits – Everything else that I need to stay fit, strong, and healthy throughout my life, is in the LifeSource Bits that Blue Buffalo includes in all of their food.
C'est Naturel – It's also completely natural and doesn't include any grains or any of the artificial flavors and colors that can spoil a good meal for a demanding boy like me.
Cons
Change Isn't Always Good – Blue Buffalo is another of my favorite doggy brands who have recently changed the recipe of their food, and while I still enjoy it, a few of my poodle pals have stopped eating it because they don't like it anymore. It might be worth trying your boy with a small bag first so that you can make sure that he likes it before you fully commit him to a Blue Buffalo diet.
[amazon box="B00JN9GCE2″]
[amazon fields="B07KNF5CXW" value="thumb" image_size="large"]
Apparently, Taste of the Wild thinks that all dogs crave the tastes from their wild past, but I've never even thought about the past or what my poodle ancestors liked to eat.
And as I don't know how to fish, I'm not sure that Salmon, smoked or not, was something that any of my forebears liked to eat in medieval France.
But, yesterday doesn't really matter as when food is as protein-focused, and tastes as delicious, as Wild Pacific Stream does all that I care about is that my bowl is always filled with this poisson rich food.
The salmon and the protein-rich grains that this food has in abundance taste divine and ensure that my muscles are always lean, strong, and healthy and that I have all the energy that I need to tackle each and every day.
This nutrient-rich food is also full of minerals fatty acids and vitamins and includes specially formulated probiotics to help me to fully, and easily digest and absorb all of the nutrients and proteins that it contains.
And as Taste of the Wild believes in recreating the same diets that my canine ancestors used to adhere to, Wild Pacific doesn't contain any artificial colors or flavors and isn't burdened by any unnecessary, nasty packing agents like wheat or soy.
It's a natural food that's been made to keep me strong, fit, and healthy that tastes delicious too!
Pros
Salmon – It contains more salmon than the freezers of a lot of the restaurants that my humans like to eat in do. And all of that salmon isn't just good for keeping my muscles strong and lean, it's also good at keeping my big brain nourished with lots of fish oil.
Sustainably Sourced – All of the ingredients that Taste of the Wild use in their food are purchased from trusted, sustainable sources by this family-owned, American business. they're as committed to saving the future and the planet as they are to making tasty dog food – which is as good for us dogs as it for you humans.
All Killer, No Filler – Taste of the Wild doesn't use any artificial colors or preservatives in their food and they don't use wheat, soy, or corn as packing agents either. So it tastes good and doesn't include anything that might make me sick or upset my stomach.
Cons
Hearts And Minds – Some vets think that the ingredients that Taste of the Wild uses to make their food are linked to heart disease in dogs and eating it can make your boy poorly. It might be worth talking to your vet about it first before you switch your boy to a diet that's based on the past without thinking about the future.
[amazon box="B07KNF5CXW"]
Best Dog Food For Poodles Buyers Guide
Which Dog Food Is The Best One For My Poodle?
All of the foods on my list are ideal for your chien, and if you feed your boy with any of them, you'll soon win his heart and mind.
That said, the only thing that you'll really need to consider is your budget, so once you've set it, take another look at my list and let your pocketbook rather than your heart make the decision for you.
If you want to follow in my human's footsteps and feed your boy the way I'm fed then the only food on my list that you need to focus on is Royal Canin.
I've been raised on it, and my humans think, and I know, that I'm an incredibly special, good boy.
Au revoir!
Frequently Asked Questions
What Kind Of Food Do I Need To Feed My Poodle To Make Sure That He Stay Healthy?
We may be among the noblest of dogs, but we poodles enjoy eating the same food that other chiens do, and regardless of how big we are, or aren't, we love meat and protein.
I, and my poodle amis, were bred to be tough and bright and as long as we eat the right sort of diet, we shouldn't be plagued by a lot of health problems.
But we do need a diet that's rich in both protein, to help us to maintain our lean muscle mass and strong builds, and Omega fatty acids to make sure that our skin remains healthy and that our continuously growing coats are always shiny and in pristine condition.
As we're intelligent, highly focused dogs, as long as our diet is interesting and we like the way it tastes, we'll happily stick to it.
Oh, and if your boy is an intelligent poodle like me, it wouldn't hurt if you also fed him food that contained some fish oil so that his large brain will always remain sharp and alert.
What Do I Need To Know About Poodles?
All you really need to know is that we are highly intelligent (we're ranked by the American Kennel Club as the second most intelligent dog breed in the world, just behind border collies), we like to work, are extremely agile, easy to train, and incredibly obedient.
Because of those things, we also need a lot of physical and mental stimulation, so you'll need to keep us occupied or we'll find ways to occupy ourselves, and they never end well.
However, we're also incredibly loving, loyal, and devoted dogs who like nothing more than spending time, and playing with, our families.
I adore my humans, and I know that every other poodle does too. That's just who, and the way, we are.