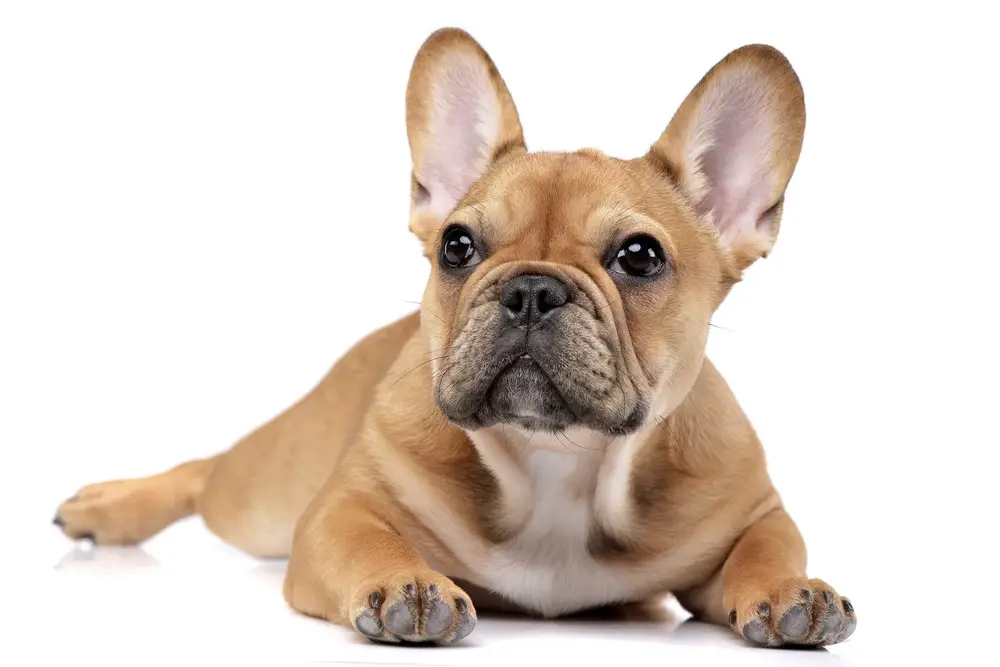 Hi, everybody! I'm Frankie the French Bulldog, and I'm here today to tell you all about the best dog food brands and formulas for Frenchies like me!
We French Bulldogs have become very popular recently. We love to be loved on by our humans, and we're super friendly!
We don't need quite as much exercise as some of our other doggy friends, so we're happy to nap and cuddle with our humans on the couch a lot of the time, but we also love to run around and play! The perfect balance, if you ask me.
One of the most important steps to looking after a French Bulldog like me is building the perfect diet. We know we're only little dogs, but we still love our food! Plus, since we're smaller and more prone to health issues than most of our puppy pals, we sometimes need special nutrition.
Luckily for you, I happen to be something of a connoisseur when it comes to tasty treats. I've never skipped a meal in my life, and just between us, I've even been known to trick my humans into feeding me a second breakfast now and again…
Anyway, it's almost dinner time, so let's get a move on! Read on for Frankie the Frenchie's complete guide to the best food for French Bulldogs!
Best Dog Food for French Bulldogs
[amazon fields="B01BI4ZIOY" value="thumb" image_size="large"]
My favorite food of all time is Canidae's Grain-Free Healthy Weight Real Chicken & Pea Recipe Dry Dog Food. 
I'll admit I wasn't too impressed when my humans first brought it home because I suspect it was part of their secret plan to put me on a diet. Once I tried it, though, I was sold!
The formula tastes incredible because it's made with real chicken meat. Not only is chicken delicious, but it also packs a big punch of protein, which is super important for us Frenchies.
We're very playful, but we don't like to exercise as much as some larger breeds. This is partly because we often can't breathe very well due to our nose shape.
So, we need a lot of protein in our diets to encourage lean muscle growth.
Lots of French Bulldogs like me have sensitive stomachs. We can be prone to food allergies and intolerances.
Some of us develop Leaky Gut syndrome if we're fed the wrong foods, which can make us very sick.
Plus, our carb intake needs to be monitored because we're genetically predisposed to obesity (or, at least, that's what my humans say when they refuse me a second helping of lunch).
That's why, sometimes, it's a good idea to feed us a grain-free food like this one. 
Even though Canidae doesn't contain any grains, it still gives me plenty of energy to play with my humans and Polly the Pug from next door!
The formula is packed with other plant-based carbohydrates and proteins, like peas, sweet potatoes, and garbanzo beans! Yum!
Plus, Canidae Healthy Weight contains lots of antioxidants for immune system support and Omega 3 and 6 to combat inflammation.
We Frenchies can struggle with breathing and suffer from Inflammatory Bowel Disease, so for us, colds and inflammations can become very serious. Therefore, fatty acids and antioxidants are crucial for our health. 
Another thing I love about the Canidae Healthy Weight Chicken dog food is that it comes in a big, 12 lb bag, so I never have to worry about where my next meal is going to come from. 
Sadly, this food is quite expensive, so it might not be right for everyone. That's okay, though, because I've still got 4 more food brands to show you!
Pros:
Made with real chicken

– Natural, high-quality protein 

High in antioxidants

– Prevents inflammation 

Contains omega 3 and 6

– Immune support 

Grain-free –

Perfect for sensitive stomachs 

12 lb bags –

Easy to bulk buy
Cons:
Expensive –

Not the best on a budget 
[amazon box="B01BI4ZIOY"]
[amazon fields="B00NRBBBIE" value="thumb" image_size="large"]
I know some of my fellow Frenchies have a really hard time digesting their food due to allergies, which is really sad.
Personally, I think food is one of the biggest joys in life, and all dogs should be able to enjoy a delicious meal without having to worry about an upset tummy afterward. 
My humans introduced me to Nulo's Adult Salmon Grain-Free Dry Food a couple of years ago when I wasn't feeling very well, and it definitely helped me to get back to my old self!
The Nulo Salmon Grain-Free formula is made with 100% all-natural ingredients, which means that it doesn't contain any fillers, or worse, nasty additives.
It's even free from animal byproducts like eggs, which some dogs can digest just fine, but which can cause IBS flare-ups in sensitive pups like me.
Plus, the lack of grains makes this a great low-carb formula in case we start to put on weight too quickly.
The main ingredients in the Nulo Grain-Free formula are salmon and peas, which actually taste surprisingly delicious together.
More importantly, though, the food has been formulated to keep Frenchies like me healthy and energetic. 
While the natural protein and Omega 3 and 6 fatty acids from the salmon encourage both lean muscle development and skin and hair health, so we can feel strong, bouncy, and beautiful all at the same time! 
French Bulldogs like me have quite small mouths, so the small kibble size of this food is easy for us to eat. The formula is even enriched with a BC30 probiotic to make the food even easier to digest.
This food does have quite a strong odor, though, so some dogs might be put off trying it if they're picky. 
Pros:
100% natural ingredients –

No fillers or additives 

Real salmon meat –

Protein for lean muscles and fatty acids for coat and skin

Low-carb formula

– Grain-free for easy digestion and weight control

Enriched with BC30 probiotic

– Supports digestive health 

Small kibble size

– Ideal for small mouths 
Cons:
Strong odor –

May be offputting for some dogs 
[amazon box="B00NRBBBIE"]
[amazon fields="B01JAHPF8K" value="thumb" image_size="large"]
My humans have tried a lot of different dog foods over the years to keep me feeling and looking my very best.
When I was at my heaviest, they decided to try me on the Purina Pro Plan Weight Control Small Breed Dry Dog Food. 
I did tell them I thought this was a bit rich considering all the times I've seen them raiding the snack cupboard at 2 am, but their dog speak isn't very good yet. 
Anyway, the Purina Pro Plan Weight Control food is actually really delicious, and I have to admit, I felt stronger and more energetic after giving it a try!
I stopped feeling so out of breath after walks, and I still looked forward to meals just as much as usual. 
This is a nutrient-dense, high-protein dog food made with real lamb meat, corn, and rice.
Of course, since this isn't a grain-free formula, it's not suitable for dogs with specific grain sensitivities or allergies. However, it does have a lot of other benefits. 
The formula is reinforced with live probiotics to make it easier to digest and support our immune systems. It even contains calcium and phosphorus to keep our teeth and bones nice and strong. 
Because the juicy lamb strips are mixed in with yummy, crunchy kibbles, there's variety in every bite. Honestly, this is one of the tastiest foods I've ever tried. I didn't even feel like I was on a diet!
Pros:
Contains real lamb –

Rich in animal protein 

Reinforced with probiotics

– Easy digestion and strong immunity

Contains calcium and phosphorus

– Maintains strong teeth and bones 

Mixed meat and kibble

– Taste and texture variety
Cons:
Not grain-free –

Not suitable for dogs with grain intolerances or allergies
[amazon box="B01JAHPF8K"]
[amazon fields="B00C78QOD0″ value="thumb" image_size="large"]
I'm not quite old enough yet to be switched onto a senior diet. However, my friend Fifi from the dog park, who is a lovely senior lady (and a French Bulldog like myself), has told me all about the new food her human has bought for her. It sounds amazing, and I hope my humans will buy it when I'm old enough!
The Victor Purpose Senior/Healthy Weight dog food is perfect for older French Bulldogs who need a little extra help staying active and keeping the pounds off. 
Victor's Purpose Senior food is made with a combination of high-quality beef, chicken, pork, and fish meal. How delicious does that sound?
With all this animal protein, even senior French Bulldogs will be able to build lean muscle and maintain their energy levels. 
Fifi used to have pain in her joints until her human started her on Victor Purpose. Now, thanks to the glucosamine and chondroitin mixed into the formula, she can run, jump, and play just like she used to! 
Plus, this is a scientifically advanced formula that also works to enhance immune and digestive function, helping to keep old-age-related health issues at bay. 
Be careful if your dog has a sensitive stomach, though, because this food does contain brown rice and wholegrain millet. 
Pros:
Contains beef, pork, chicken, and fish meal –

High in premium-quality animal protein 

Fortified with chondroitin and glucosamine

– Promotes joint health

Scientifically advanced formula

– Protects immune and digestive systems 
Cons:
Contains grains –

Not for dogs with allergies 
[amazon box="B00C78QOD0″]
[amazon fields="B006HKAI90″ value="thumb" image_size="large"]
I can still remember the food my humans chose for me when I was a puppy. It was Royal Canin's Bulldog Puppy Breed Specific Dry Dog Food, and my mouth still waters sometimes when I think about it. Plus, it helped me to grow into the beautiful, bubbly boy I am today! 
Royal Canin's Bulldog Puppy food contains everything growing bulldogs need to set them up for a healthy life. 
It's made with real chicken (my favorite!) so it delivers plenty of protein for muscle development when it matters most. 
The formula also contains prebiotics which help to keep gut flora working properly for healthy digestion. It's even high in Vitamin E and other antioxidants for skin and coat health.
These vitamins also help to lay the foundations for a robust immune system, which is super important while we're still growing! 
Thanks to the tailored kibble size, the Royal Canin Bulldog Puppy formula is easy to chew and digest. This lets us get as much nutrition from each meal as possible.
Unfortunately, this food might not work for all French Bulldog puppies because it contains brown rice, so it's not grain-free.
However, the majority of bulldog puppies can still tolerate grains, so I'd encourage all humans to let their pups try it unless they've demonstrated allergic or sensitive reactions to grains in the past. 
Pros:
Formulated for puppies –

Suitable for bulldogs aged 8 weeks to 15 months

Contains prebiotics –

Regulates intestinal flora for healthy digestion

High in antioxidants

– Healthy immune system, skin, and coat 

Tailored kibble size –

Easy to chew and digest 
Cons:
Contains brown rice –

Not grain-free 
[amazon box="B006HKAI90″]
Buyer's Guide
I hope you've enjoyed reading about all my food recommendations for French Bulldogs!
Sadly, we French Bulldogs are often stereotyped as not being very intelligent. However, this simply isn't true.
Canine intelligence ratings are often based on Coren's Dog Intelligence Criteria which, in my humble opinion, is a pretty flawed system because it mainly uses obedience as an indicator of intelligence.
Frenchies like me can be cheeky and stubborn, but that doesn't mean we aren't intelligent! We know and understand much more than you might think.
So, bearing that in mind, read on for my expert advice on how to choose the best dog food for a French Bulldog!
Ingredients
It makes sense to check out the ingredients listed on dog food as a priority.
Like most French Bulldogs (and most dogs in general, for that matter), I love a lot of natural, raw meat in my food.
Chicken, turkey, lamb, beef, fish… You name it.
Raw meat is the best source of protein for building lean muscle, which is especially important for Frenchies because we put on weight more easily than some other breeds.
However, even though we struggle with our weight sometimes, that doesn't mean we don't still need carbs for energy!
We still need to live healthy and active lifestyles (in between naps) just like any other dog, so it's important for us to have a good source of carbohydrates in our food.
Some humans turn to grain as a carb source for their French Bulldogs, which is fine in most cases.
Unfortunately, though, our tummies can be a little sensitive, and many of us have grain allergies or intolerances.
Good carbohydrate alternatives for grain-sensitive dogs are potatoes, sweet potatoes, peas, and beans.
Ideally, you'll want to stick to healthy fat sources and keep these relatively low (but within the recommended range) to avoid excessive weight gain.
What we do need lots of, however, are plenty of vitamins and minerals. Because French Bulldogs are susceptible to inflammatory conditions such as IBS and pneumonia, we need a lot of antioxidants like Vitamin E to minimize inflammation and promote immunity.
Prebiotics and probiotics are also important for our sensitive digestive systems. Prebiotics are especially crucial when we're younger to help build up our digestive flora.
As we get older, we might find it more difficult to digest certain foods, which is where probiotics for healthy digestion come into play.
Speaking of getting older, we Frenchies may need a little extra help as we get older. Our senior years are where issues with weight and respiratory function really ramp up, and our joints can suffer as a result.
If you notice us start to struggle as we get older, consider introducing a glucosamine and/or chondroitin-fortified food into our diets for a boost in joint health.
Consistency
As a French Bulldog myself, I know how complicated the debate around wet vs. dry food for Frenchies can be.
Our humans are often worried about our weight, and wet food is less calorie-dense than dry food, so this can seem like the obvious option.
I'm not complaining – wet food is delicious – but I also know it's not the most budget-friendly option, and it's certainly not as convenient as dry food in terms of storage and bulk buying.
Luckily, there are plenty of equally delicious dry foods on the market that are also low-calorie.
Plus, you can even get combination or 'shredded' food that combines dry kibble with shreds of meat for a 'best of both worlds' dining experience.
Quantities
If I hadn't made this clear enough yet, let me say again: French Bulldogs love food!
We have big appetites for such small dogs, so it's crucial that you always have enough food for us in storage!
If possible, try to bulk-buy ahead of time with some of the large food bags available through online retailers (12 + lbs).
This will not only ensure you can cater to our healthy appetites, but it will also make it easier for you to plan out a healthy meal schedule to keep our nutrition and calorie consumption in check.
If you run out of food sooner than expected, you might find yourself rushing to the store and grabbing the first dog food you find, which might not be the best for us.
Bulk-buying will also save you money in the long-term, so it's a win for everyone!