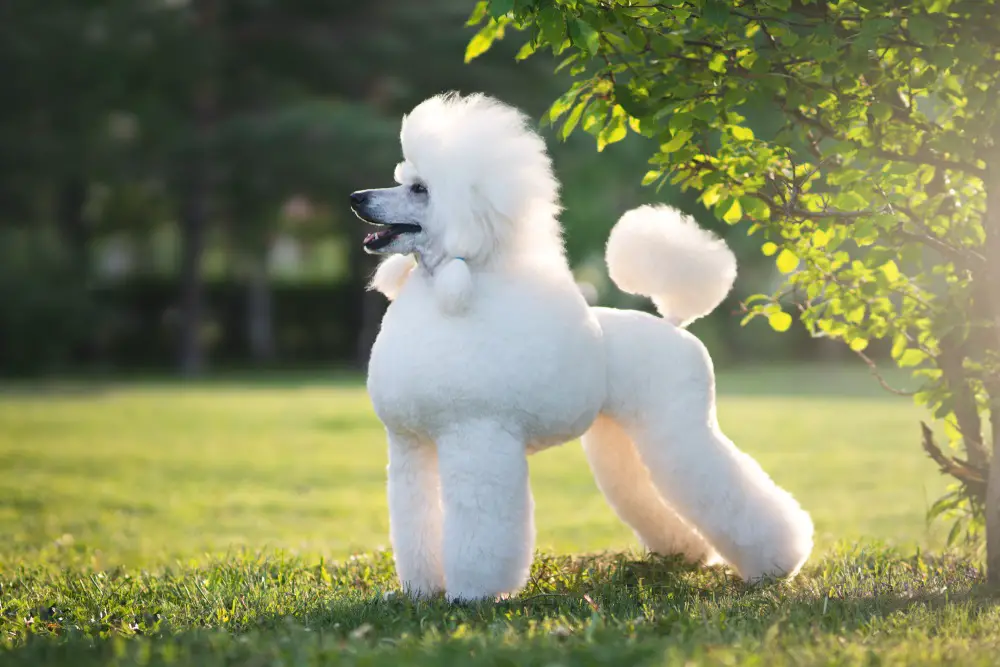 Well, hello, everybody! My name is Pandora and Poodle, and I was hoping to talk to you all today about something very close to my heart: my beauty regimen!
As a Poodle, I pride myself on always looking my best. A lot of work goes into maintaining these good looks, and my human spends a lot of time each month bathing, grooming, and pampering me.
You may have heard that we Poodles are kind of high-maintenance. We typically have quite sensitive skin, and our curly coats can be tricky to maintain.
Not grooming us Poodles often enough can lead to severe knotting and matting, which can be very painful and lead to skin infections. Using the wrong kind of clipper for grooming can damage our coats and even cause injury.
But if you're a new Poodle owner yourself, don't panic! Luckily for you, I'm something of an expert when it comes to beauty and hair care, so I'm going to be reviewing my 5 favorite clippers for Poodles today!
Best Clippers for Poodles
[amazon fields="B01HRSZRXM" value="thumb" image_size="large"]
My favorite clippers of all time are the ONEISALL Dog Shaver Clippers. My human bought these for me recently, and honestly, I can't imagine my grooming routine without them!
These rechargeable clippers have a built-in Li-ion battery, so you can start using them straight out of the box. They're even suitable for use when they're charging, so you'll never have to postpone grooming day.
The ONEISALL clippers work using a detachable, dual-blade system. The fixed blade is made out of stainless steel, which is highly durable and easy to clean. The moving blade is made from ceramic and, thanks to its sharp edge, delivers smooth and efficient trimming action without nipping at the skin.
It's important to bear in mind that not all Poodles' coats are exactly the same. Miniature and Toy Poodles, for example, have slightly differently textured fur to pedigrees like me.
Luckily, these clippers come with 6 changeable guards that allow coats of different textures and lengths to be trimmed efficiently, so you can effectively tailor your grooming ritual to your Poodle's coat.
Even better, you can get all of this superior quality for a very reasonable price! With these clippers, you can take care of all our grooming needs while putting money aside for more treats!
Plus, these clippers come in 4 color options: gold, silver, red, and white. My human got me the gold ones, so whenever it's time for a trim, I feel like a princess!
With that being said, if you allow your Poodle's coat to become matted, these clippers will not be able to fix the problem.
Because they are designed to be safe for use against the skin, they aren't sharp enough to cut through knots and tangles.
So, these clippers are suitable only for grooming well-kept fur.
Pros:
Built-in battery –

Easy to recharge 

Detachable dual blades

– Effective trimming and easy cleaning

6 guard combs included –

Tailor to your dog's coat 

Affordable –

High-quality clipping for a budget price 

Available in 4 colors –

Silver, gold, white, and red
Cons:
Safety-oriented blades are not sharp enough for matted fur –

Not for tangled coats
[amazon box="B01HRSZRXM"]
[amazon fields="B07JMY22X3″ value="thumb" image_size="large"]
A while ago, my human heard that Wahl's Professional Animal Bravura Lithium Clipper is one of the best clippers for Poodles. When we tried it out, I could definitely see why!
These are multipurpose clippers designed to cater to the grooming needs of all kinds of animals! This includes horses, farm animals, and of course, dogs!
The reason these clippers are so great for Poodles is that they come with an adjustable 5-in-1 blade that allows for a variety of cutting lengths. This is important because we Poodles have hair that can grow indefinitely, so our coats can reach a whole range of different lengths.
This is a cordless clipper model, which is wonderful because it allows for a full range of movement with no restrictions.
This clipper delivers 90 minutes of running time between charges, which is more than many dog clippers currently on the market. 90 minutes (an hour and a half) is more than enough time for thorough grooming, even for tricky Poodle coats.
Something else I love about these clippers is that they run cool and quiet. Unlike some other clippers, which can make scary noises and reach uncomfortable temperatures, the Wahl Professional clippers are comfortable for humans and pets alike.
This is just as well because the only real downside to these clippers is that they are a little lacking in power. They work perfectly well, but they do take a little while to work their way through thick coats.
Pros:
Multipurpose –

Suitable for use on various animals 

Adjustable 5-in-1 blade –

Suitable for various coat lengths 

Cordless –

Easy, unrestricted movement 

90-minute run time

– Plenty of time to groom between charges 

Quiet and cool-running

– No unpleasant noise or overheating
Cons:
Could be more powerful –

Relatively slow operation
[amazon box="B07JMY22X3″]
[amazon fields="B000LRN31K" value="thumb" image_size="large"]
As a sophisticated lady, I know to sit nice and still while during grooming sessions these days. When I was a puppy, though, I'll admit I was a little more stubborn.
My poor human was at her wit's end, trying to stop me from chewing at the clippers and nudging them out of her hand.
That's why she invested in Oster's Golden A5 Two-Speed Animal Grooming Clippers!
The Oster Golden A5 clippers have a 2-speed switch that allows for alternation between speeds of 2,100 SPM and 2,700 SPM.
Sometimes, we Poodles need to be groomed a little more slowly than other dog breeds because it's easy for our luscious locks to get caught as our coats grow longer – especially if we're feeling restless.
However, in the summer, when our humans tend to keep our coats shorter, we can usually handle being clipped at a faster pace. So, the ability to alter the speed of the clippers is ideal.
Another great thing about these clippers is that Oster has made them chew-proof. I think this was one of the main reasons my human invested in this model, and the result was that no matter how irritable I got, I could never make a dent in these clippers.
The Oster Golden A5 clippers come with a Cryogen X blade in size 10, which delivers extreme precision.
High-precision blades are essential for grooming young, feisty puppies, including Poodles, because getting accustomed to grooming can be a stressful time, and sudden movements can be dangerous.
While this is a corded clipper model, the included cord is 10 feet long, which should be long enough to maintain ease of movement during grooming.
Unfortunately, the universal guide combs that are compatible with this clipper are sold separately.
These combs are designed to provide extra protection and control, which are important for the sensitive skin of Poodle puppies.
Therefore, you might need to purchase one or several of these combs separately before you get to grooming.
Pros:
2 speeds –

Tailorable grooming experience 

Chew-proof –

Highly durable 

Cryogen X blade

– High-precision clipping and durability

10 ft cord –

Long and unrestrictive
Cons:
Safety combs sold separately –

Separate purchases required for full protection
[amazon box="B000LRN31K"]
[amazon fields="B0765BFVGK" value="thumb" image_size="large"]
Pet Union's Professional Dog Grooming Kit is perfect for humans hoping to groom their Poodle to a professional standard from the comfort of their own home. It's also arguably the best value clipper for Poodles currently on the market.
These budget-friendly clippers are designed to provide professional-level grooming results without the salon-level cost.
My human knows that I like the finer things in life, but I know that I can be a little too high-maintenance sometimes. So, a couple of years ago, we eventually compromised and chose these clippers.
The Pet Union Professional clippers are quiet-running, making them suitable for anxious or easily startled dogs. We Poodles can be a little highly strung and jumpy, so quiet clippers are always appreciated.
One of the best things about these clippers is that they feature adjustable titanium blades, which are just perfect for tailored, fast, and precise clipping.
On top of this, the kit also includes all the grooming accessories you could ever need for professional grooming. The clippers come with scissors and comb attachments, as well as a nail clipping kit, cleaning brush, and hair oil.
The clippers themselves come in a range of 5 different colors, including gold (my favorite!), black, chrome, gunmetal, and white.
Sadly, these clippers aren't the most durable (which is perhaps to be expected for the low price), so I don't have them anymore. They did last me a good couple of years, though, and they provided some of the best grooming sessions of my life!
Pros:
Adjustable titanium blades –

Durable, fast, and precise 

Quiet operation –

Suitable for nervous dogs 

Grooming accessories included

– Comes with scissors, combs, cleaning brush, nail clippers, nail file, and oil

Affordable –

Budget-friendly 

5 color options

– Range of design choices
Cons:
Not very durable –

May need replacing prematurely
[amazon box="B0765BFVGK"]
[amazon fields="B0018KVHG2″ value="thumb" image_size="large"]
As we saw with the last clippers I reviewed, durability can be an issue even with the best pet grooming products.
If you're looking for clippers that will last you and your Poodle for years, I recommend the Andis ProClip UltraEdge 1-Speed Detachable Blade Clipper Kit.
This clipper comes with a very sharp UltraEdge blade that makes clipping even the thickest coats an effortless task.
It also has a long, 14-inch cord that allows the appliance to be used continuously and without time or spatial restrictions.
The cord itself is part of what makes these clippers so durable. It's a heavy-duty cord that won't easily break or be chewed through.
Plus, the clippers are protected by break-resistant housing which enhances the durability of the product as a whole. It does have the side effect of making the clippers feel quite heavy, though.
The built-in locking switch on these clippers ensures that the appliance won't unexpectedly turn on or off, making it safer and less stressful to use.
Additionally, the clippers come in a protective case with a set of detachable combs, so the unit is portable and ready to go on arrival!
Pros:
Sharp UltraEdge blade –

Fast and effortless clipping

14-inch cord

– Continuous, unrestricted use 

Break-resistant housing –

Increased durability 

Locking switch

– Won't turn on or off accidentally 

Protective case and combs included

– Complete and portable
Cons:
Feels heavy –

May induce hand fatigue
[amazon box="B0018KVHG2″]
Buyer's Guide
Choosing the Best Clippers for Poodles
Batteries, blades, and buttons! Oh my! There's so much to think about when it comes to choosing the best clippers for Poodles!
Luckily, as a member of one of the most intelligent dog breeds in the world, I feel qualified to walk you through it.
Blades
The number one priority when choosing clippers for a Poodle is the blade construction.
Poodle coats can be quite dense and thick, so your clipper blades will need to be sharp enough to cut through our curls effectively. Since we Poodles have notoriously sensitive skin, though, it's also important that the blades aren't too sharp.
You can't always rely on clippers to work through matted or tangled hair. In fact, doing this can cause the clippers to get caught and pull painfully on our fur, with the worst-case scenario being that you or we get hurt.
The best course of action, therefore, is to deal with any matting using a dog brush and, if necessary, scissors before getting the clippers out.
So, what kind of blades should you use to groom us Poodles? Well, the main requirements are that the blades should be both sharp and durable and feature some kind of additional protection to prevent accidental injury.
Titanium, steel, or cryogenically-treated metals are usually the best options because they are the hardest blade metals and can be sharpened sufficiently to deal with dense Poodle coats.
Dual-blade construction (a fixed blade combined with a cutting blade) is probably the most effective blade design for cutting poodle hair because they tend to cut more evenly and at a faster pace.
Adjustable blades are ideal because these can be adjusted according to coat length. Because Poodle coats can grow very long and dense or be kept short, it's always best to have some flexibility.
In addition to the blade(s), you will also want to have one or several guard combs. These combs are designed to provide extra control and protection, keeping the sharp edges of the blade away from sensitive skin and guiding the user's movements for ergonomic and smooth clipping.
Batteries and Cables
Something else you'll need to think about is power and charging.
Clippers for dogs can either be corded or cordless. You'll usually pay a little extra for a cordless model, but it may be worth the extra cost for the additional freedom of movement.
You can even find cordless models that still work when plugged in, so you don't have to worry about waiting for your appliance to charge up before you can get grooming.
Corded clippers, however, can still be efficient as long as the cord is long enough to allow sufficient reach and heavy-duty enough that your pup won't be able to chew through it.
Controls and Settings
The controls and settings on the clippers you choose for your Poodle can play a large role in determining how successful and stress-free the grooming process will be.
You will need to decide whether you want single-speed or adjustable clippers for a start. Personally, I would recommend multi-speed clippers for the extra versatility.
A locking switch can also be a welcome addition to dog clippers. Some clipper models have very sensitive switches that allow them to accidentally be turned on and off.
It can be frustrating when your clippers suddenly turn off in the middle of a task, and potentially dangerous if they're set off accidentally.
However, with a locking switch, this problem is circumvented because the switch is held more securely in position.
External Construction
You will also need to consider the external construction of your new clippers to determine how durable they are.
It's all very well having the latest cryogenic precision blades, but if your clippers fall apart at the slightest knock or feel heavy or uncomfortable to use, your grooming experience will suffer.
Look for features such as break-resistant housing and heavy-duty cords in conjunction with strong, sharp blades.
If possible, I recommend choosing clippers that come with a protective case so that you can keep them safe and extend their longevity as much as possible.
Accessories
If you want to go above and beyond for your Poodle (as I think you should!), you could also get some extra grooming accessories to go with your clippers.
Professional grooming scissors, combs, brushes, and oils are all part of a professional grooming experience, and if you choose clippers that come as part of a kit, you can get all of these for an incredible price!
Accessories like these go a long way towards helping us Poodles look and feel our best.