Although poodles have a reputation as a prim and proper, stuck-up breed this couldn't be further from the truth. In fact, we are intelligent, fun-loving dogs that strive to please our owners.
We are known for our curly coats of hair and while we feel that it adds to our unique appearance, our humans would argue that it can be rather difficult to maintain.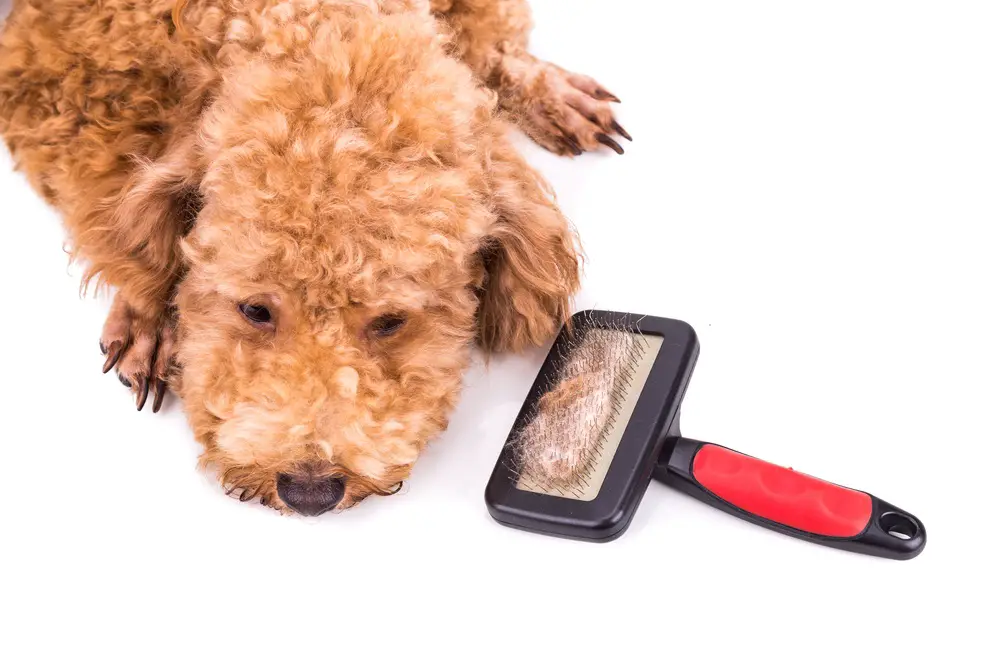 While we do not shed, if our hair is not correctly maintained it is prone to tangling. Our ears, belly, and legs are particularly problematic areas, if ignored these knots can develop into matted patches that are quite uncomfortable and painful for us.
Ideally, we should be brushed at least once a week to maintain a healthy and knot-free coat.
As our coats can be quite unruly, finding the best brush to tackle our knots can be a challenge. Over the years my owners have tested many different types on my hair so I guess you could say I'm sort of an expert in this area.
Below, I have recommended my top picks of my favorite brushes for poodles. I've gained a fair bit of knowledge when it comes to grooming brushes so I've also included my top tips for finding the best product for your poodle in a buyer's guide below.
[amazon fields="B00ZGPI3OY" value="thumb" image_size="large"]
One of my favorites is the Hertzko Self Cleaning Slicker Brush which penetrates my coat to get rid of my loose hair and knots without scratching my skin.
The fine bent wire bristles tackle my matted sections without causing me any sort of discomfort in the process. It also increases blood circulation leaving my coat looking much softer and shinier.
Your comfort is important too and this brush has you covered! The anti-slip handle and grips prevent you from developing wrist fatigue so lengthy grooming sessions don't have to be uncomfortable for you either. It also weighs 0.2 lbs so it's super lightweight.
This brush is super easy to clean so my humans don't have to spend a lot of time cleaning the brush once they have groomed me. The retractable design also means that any hair or dirt particles can be removed from the bristles with ease.
Pros
Lightweight – this makes it easy to handle during lengthy grooming sessions.
Retractable Design – protects the bristles in between uses so that they don't get damaged.
Ease to Clean – the design of this brush means that it's super easy for you to clean in between uses.
Robust Design – Even though my hair is prone to knotting, the robust design of this brush breaks them down with ease while ensuring that I remain comfortable.
Cons
The Size – While this brush is the perfect size for me, for smaller poodles, the brush head may be a little too large.
[amazon box="B00ZGPI3OY"]
[amazon fields="B0009F3MNS" value="thumb" image_size="large"]
Next up is the Hartz Groomer's Combo Detangling Dog Brush. As it has been created by pawfessionals, it delivers great results when detangling matted sections of my hair. On one side of the brush, there are stainless steel bristles which my owners use to remove stubborn knots. The other side has nylon bristles which my owners use to distribute the oils across my coat so that it looks much healthier.
Your comfort has also been catered to thanks to the ergonomic design of the handle. The rubber coating provides you with total control when brushing through our fur while also ensuring that your hands aren't at risk of tiring when tackling our tougher knots.
While I like how comfortable this brush feels against my skin, my owners love the affordable price tag. Regular trips to the groomers can become quite expensive but this brush means that my hair looks much healthier without my owners having to spend a lot.
Pros
Great Value – My owners love that you are provided with two types of brushes for an affordable price.
Safety Tips – The safety tips of the bristles are soft against my skin so I'm not subject to any pain or discomfort when being brushed.
Sturdy Design – It is strong enough to brush through my stubborn knots without breaking or deteriorating in quality.
Ergonomic Design – provides you with maximum comfort and control.
Cons
The size of the brush head – this may make it unsuitable for use on smaller poodles.
[amazon box="B0009F3MNS"]
[amazon fields="B00OIP3QEU" value="thumb" image_size="large"]
The GoPets Slicker Grooming Brush is great for us poodles but it can also be used on dogs and cats of any size regardless of their fur type.
As a 'professional' brush it gently gets rid of my tangled and knotted patches. It has been designed with high bristle density fine bent wires which will penetrate my coat without causing me any discomfort by scratching my skin.
I love how this brush massages my coat and increases my blood circulation so my hair looks much softer and shinier. Even poodles that dislike being groomed are unlikely to grumble about the feel of this brush.
My humans love how easy this brush is to clean in between uses. The self-cleaning button retracts the bristles so any loose hairs that have gathered can easily be removed.
Don't worry, your comfort hasn't been forgotten. In fact, the handle of this brush has been designed with a silicone gel coating so it is going to be comfortable for you to handle even during lengthy grooming sessions. While this brush will leave my hair looking great, the design protects you from hand and wrist fatigue.
Pros
Suitable for thick coats – some of us have thick coats and this brush is effective at detangling knots in all fur/hair types.
Easy to angle – the design of the brush head means that it is easy to brush my legs, arms, ears, and belly.
Compact – When retracted the brush is super compact and very easy to store.
Metal Bristles – These bristles brush through my knots and matted patches well.
Cons
The Cost – Although this issue doesn't concern me, it is quite expensive when compared to offerings from competitors.
[amazon box="B00OIP3QEU"]
[amazon fields="B077JBM23R" value="thumb" image_size="large"]
A great thing about this brush is that it is double-sided. While one side features pins, the other side has bristles. My humans groom me first using the pins as they remove my knotted patches without causing me any discomfort.
They use the soft bristles to smooth my coat so that it appears much shinier. This brush doesn't scratch against my skin so you needn't worry about the development of any unwanted irritations. It has also been uniquely designed with a padded back which prevents my hair from becoming static.
When regularly used as part of my grooming routine, this brush promotes healthy hair growth so that I am always looking my best. It's also suitable for use on cats which sometimes means that I have to share it.
While I love the feel of the different bristles against my skin, my humans appreciate the value of having two brushes in one.
The anti-slip handle means that you can maintain control of the brush even when battling against tough matted patches. It also ensures that the brush is super comfortable for you to hold too.
Pros
Suitable for pets with sensitive skin – the soft nylon bristles are gentle and will not trigger any irritations.
Double-Sided – As a double-sided brush, you are provided with two tools for the price of one making this a super affordable purchase.
The size – This is a smaller brush that is great for dogs of all sizes – even miniature poodles. It is also easy to store too.
Easy to Use – The comfortable design of this brush means that it is easy for you to hold.
Cons
The Quality – Unfortunately, my humans were not overly impressed with the quality as the bristles are prone to falling out after a few uses.
[amazon box="B077JBM23R"]
[amazon fields="B071HFZB6V" value="thumb" image_size="large"]
The Glendan Pet Grooming Brush may be simply designed but it leaves my coat looking much better. The metal bristles have rounded tips that massage my skin while removing my knots and matted patches. As a slicker brush, it prevents skin disease and increases blood circulation leaving my coat looking lovely and shiny.
Designed with a rotatable head, this brush is easy to use. It can be positioned at one of three different angles allowing my humans to brush under my arms and legs with ease courtesy of this unique concept. The ventilated backing means that the pins flex to the contours of my body so that it feels much more comfortable.
You will be pleased to know that your comfort hasn't been ignored. The ergonomic, anti-slip design of the handle allows you to maintain a secure and comfortable grasp so that you are in full control during the grooming process. It has also been designed with a convenient eyelet so my owners can hang it out of the way of possible damage.
Pros
The size – there is a small and large option available which is great for catering to our different sizes.
Quality Guarantee – My humans appreciate the 365 day quality guarantee so there is help available if they are dissatisfied with the quality of the brush.
Rotating the head – this super convenient feature makes it easier for my owners to groom all areas of my coat.
Affordability – As this brush retails at an affordable price range, it's great for humans who are on a budget.
Cons
Difficult to Clean – This brush is a little difficult to clean and although this isn't likely to be a significant issue as we don't shed a lot, it is something to be aware of.
[amazon box="B071HFZB6V"]
Best Brush For Poodles Buyer's Guide
As there are so many different brushes available, it's super important to make sure you select the right brush for your poodle. Below, I have provided you with all of my top tips and the features that my owners and I look for in a great quality grooming brush.
The Type Of Brush
First, it is important to consider the type of brush. It is important to select one that will not snag on our fur as this can be quite painful for us. My owners have tried a few different types on my hair on our quest to find the brush that achieves the best results.
A slicker brush is the best option for those of us with curly wiry coats. This is because a brush of this kind has been designed with fine wire bristles that work their way through our knots without causing us any discomfort.
A pin brush looks very similar to the type of brush that you would use to style your hair, except it's intended for us dogs. With a large brush head and tipped metal pins, this brush will remove any knots and dirt particles that have got caught in our hair during our outdoor adventures.
Another option is a shedding brush, although we aren't a breed that sheds a lot, a brush of this kind can help to collect any loose pieces of hair that have got caught up amongst our curls.
The Type Of Fur
Although many of us tend to have naturally curly coats, some poodles have clipped coats. As our natural coats are longer they are more difficult to maintain as they are prone to knotting.
Those with clipped coats do not have such demanding grooming requirements. It's important to choose a brush that suits our hair type. Not only will this mean that the brush is more effective in removing knots, but it will also make the experience much more comfortable for us.
The Size Of The Brush
Because of our hair type, our whole coat requires attention when it comes to daily grooming. A bigger brush is preferable as it gets the job done quicker.
While I rather enjoy the fuss and attention that I get when I'm being groomed others don't enjoy it quite as much so a bigger brush will reduce the amount of time that they spend getting brushed.
It is important to choose the size of the brush according to the size of your dog. Certain variations of us are bigger than others. A brush with a large head is an impractical choice for grooming a smaller poodle as it will make it harder for you to reach all areas of their coat.
The Construction
As some of us have quite thick fur, it is important to choose a robustly constructed brush. One that is poorly made may struggle to get through the knots without breaking.
Another issue relates to the quality of the bristles. Of course, they need to be gentle against our fur but they also need to be effective in getting rid of the knots. Those that are poorly made are likely to break easily when tugging against firm matted patches and knots.
Comfort
While the brush needs to be suitable for our requirements it's also important to consider your own comfort as the one who is going to be handling it. Grooming our coats can be a rather time-consuming chore so I'm sure that you will appreciate one that has rubber grips.
Not only will this make it more comfortable to handle but will also allow you to maintain a secure grasp when battling against the heavily knotted sections of our coats.
Cleaning The Brush
Although we don't shed, you may be shocked by the dirt that collects around the bristles of the brush.
Choosing one that is easy to clean means that you don't have to spend lots of time trying to remove these stubborn particles after grooming us and this means more time for attention and cuddles.
Many brushes have a self-cleaning feature which my humans love as it's super convenient. This means that the brush has retractable bristles so any loose hairs can easily be removed.
The Design
Some brushes are designed with angled or rotatable heads. My owners find this super handy as it makes it easier for them to brush all sections of my coat including my underarms and legs without causing me any discomfort in the process.
The Brand
Some brands make some great pet grooming tools that my owners and I love. While I like the gentle feel of the bristles against my skin, my owners like how effective they are in combating my tangled hair.
Of course, there are plenty of options available from less known brands which I love just as much. It's important to choose our grooming tools from a brand that you feel confident with.
Frequently Asked Questions
How often should I brush my poodle?
As our hair is prone to matting, we require regular grooming. We can be brushed daily but if this isn't possible two to three times a week will be sufficient in eradicating the build-up of any knots.
Is there a special type of brush for poodles?
Due to our coat's tendencies to knot and tangle, you will likely find a slicker brush to be the most effective. Although pin brushes are a viable option, professional groomers tend to favor the performance of a slicker brush.