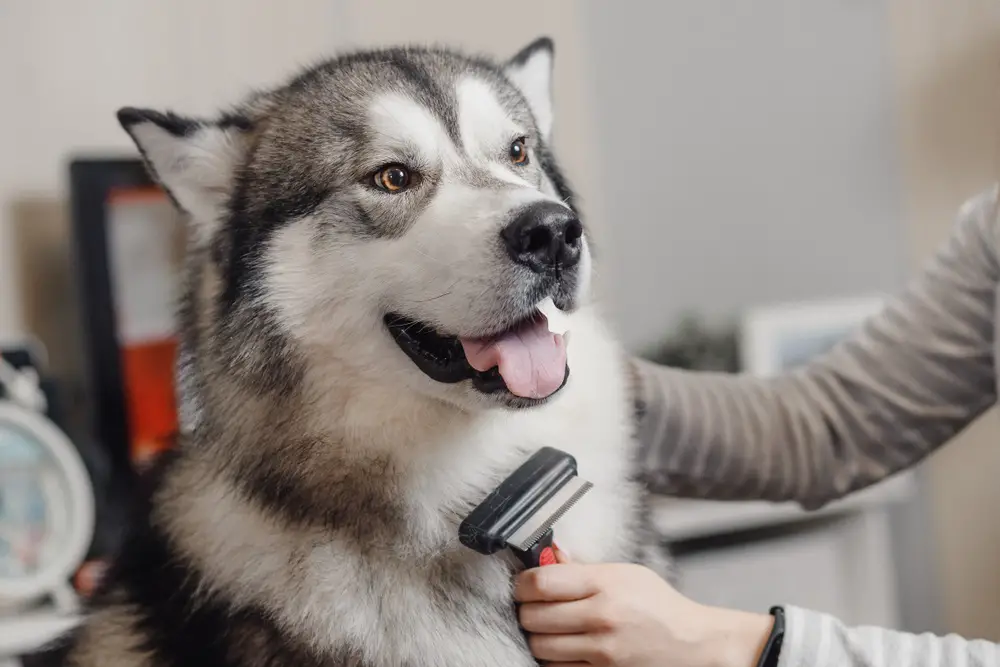 Hello there, I'm a husky dog, and I for one can tell you that I'm the most energetic and playful dog on the block!
Unfortunately, I'm also the hairiest, so that when I'm shedding I can make a heck of a mess around your house.
Today's Featured Video
Are you sick of cleaning up my endless husky hairs? Well, one great way to avoid your nice carpet from being clogged up with dog fur is to invest in a lovely new dog brush for me and my other canine chums.
But luckily for all your dog owners out there, there are plenty of different brands and versions of brushes that you can buy.
Ranging from long-haired grooming brushes to specially-designed de-shedding brushes, there are plenty of groomers out there that will make me nice and clean as well as being very therapeutic.
These brushes have been highly rated by both myself and my fellow doggos – I guess our owners don't mind using them either!
You can even get rubber-spiked gloves that will fit snugly on your hand so that when you're stroking me it won't even feel like grooming!
But where can you find the best dog brushed for huskies? What features and material should a good dog brush be made from to give my coat that deep cleanse and get rid of all those unsightly hairs? How much can you be expected to spend on a decent grooming glove for husky dogs?
Well, if you are a dog-lover and want to make sure that I look good on a walk and don't leave your house in a real mess, then don't worry your human heads about it! Because lucky for you I've got a list of some of the best brushes for a husky currently available on the market.
I've also got a buyer's guide that will help you to figure out which is the best brush for your husky as well as some frequently asked questions that will hopefully allay any concerns that you and your husky might have.
Best Brush For Husky
This first brush is one of my favorites! It is made from solid metal which feels really good on my skin and will completely get rid of all those horrid hairs that are littering up your carpet!
These combs get real deep, which is really handy for getting a hairy dog like me looking their best – introducing the Maxpower Planet Pet Grooming Brush.
This brush will reach into my undercoat, where a lot of my hairs can often get trapped. This is also known as a dog de-matting comb, which means that it will untangle a lot of the hairs that get knotted after a certain period of time.
However, when buying one of these brushes, make sure that you pay attention to the length of the teeth.
A comb with longer teeth will scrape the back of my skin and cause me no end of pain, so make sure that the spokes aren't long enough to dig in too harshly!
Remember, if the teeth are too short, they might not penetrate too deeply into the topcoat.
Pros
This brush has a nifty handle that will make it much easier for you to run through my luscious, snowy-white coat.
This brush has a dual-sided design, so you can simply roll it back and forth and watch me pant with delight.
This brush will de-shed all the unnecessary hairs on my skin, it untangles the knots and also gets rid of all the dirt and dust that can get trapped in my hairs.
This handle is also non-slip, ensuring that it will not give me any nasty nicks – one of the worse things for a husky is for you to brush too harshly, I should know!
Cons
Some of my husky pals have complained that this brush does not go easy on the thinner fur around their ribcage, causing them some discomfort.
Maxpower Planet Pet Grooming Brush - Double Sided Shedding and Dematting Undercoat Rake Comb for Dogs and Cats,Extra Wide,Blue
Dual-Sided Design: Start with 9 teeth side for stubborn mats and tangles and finish with 17 teeth side for thinning and deshedding. Achieve faster and more professional dematting and grooming results
Skin Friendly to Your Pets: Our Dematting Brush is designed with Sharpened but Fine Rounded Teeth, allows you easily and safely remove mats, tangles, knots, loose hair without irritation or scratching
Effective Dehedding Tool:This undercoat rake gently removes loose hair, and eliminates tangles, knots, dander and trapped dirt.Perfect solution for dogs and cats with thick fur or dense double coat care
Comfortable to Use: Lightweight and Non-Slip rubber handle for comfortable holding and stability.You will absolutely enjoy your grooming time with this pet brush
Great Gift for All Pets Lover: Since Our deshedding rake is a multi-purpose grooming tool,a must-have pet hair Remover,it would be a great gift choice for all pets lover,they will love it for sure
This next dog comb is quite different from the last one, but when it comes to giving me a nice, long, smooth grooming session, it's simply one of the best around!
It has long, gentle and rounded teeth, which will go a lot easier on my skin and remove any hair that accumulates during shedding season – introducing the Dog Comb for Removing Tangles and Knots.
This has a wonderful ergonomic rubber handle that will feel nice and comfortable in your hand and also on my skin. If you find it tricky to groom your husky, then luckily it comes with a free how-to grooming DVD that will help you to get it right!
This is an anti-scratch brush that will not dig into your dog's flesh and cause them to bite it for days. This can lead to welts and sores developing on our skin that will cause us a lot of pain for days.
This will also boost the circulation of your animal, promoting good hair growth during the winter seasons.
Pros
This brush has rounded ends that will certainly protect me and a lot of my canine friends from harsh scratches and torn hair.
This brush is great for removing hair, dirt and dead skin that can often become trapped underneath the topcoat. It's important to have metal enough to get right through to our skin.
Not only is this brush good for our coat health, but it also feels great to have these brushes running through our soft fur.
Being groomed regularly is important for stopping us from sliding across the kitchen floor and potentially hurting ourselves!
Cons
Some dog owners have complained that the teeth on their brushes broke after just a few combs – we don't want horrid metal shards in our fur!
Dog Comb for Removes Tangles and Knots - Undercoat Rake for Dogs & Cats - Grooming Tool with Stainless Steel Teeth and Ergonomic Grip Handle - Pet Hair Comb for Home Grooming Kit - Ebook Guide
ROUND & GENTLE COMB TEETH: Unlike dematting combs with sharp teeth, this dog grooming comb features round teeth that break up tangles + effectively remove loose hair, dander & dirt trapped beneath fur.
ERGONOMIC RUBBERIZED HANDLE: Finished with a rubbery grip, our grooming comb is safer & easier to use than most groom tools. The coating prevents slippery accidents to keep you & your pet safe.
IMPROVES OVERALL PET HEALTH: Designed to gently massage your pet's coat, the anti-scratch teeth on our dog & cat comb naturally support the health of your furry best friend by boosting circulation.
COMB COMES WITH FREE EBOOK: DIY pet grooming can be a bit tricky if tools are not used correctly, which is why every SP pet hair comb includes a download of our helpful instructional guide.
RISK-FREE LIFETIME GUARANTEE: We firmly stand by the lasting quality of our pet grooming tool. If for any reason you're not happy with it, reach out to us to receive a refund or replacement.
This next grooming brush looks absolutely amazing and is one of the most luxurious options for me and huskies all over the world.
It has a thick rubber handle that will give you better control over the direction of the brush, allowing you to swipe it anywhere over my ticklish body – introducing the Hertzko Self Cleaning Slicker Brush
The bristles for this brush are made from solid steel, but they aren't too long so they won't tear off any deep hairs in a way that will hurt your husky.
One thing that I love is lying on my back and letting my owner rake this brush across my delicate belly.
This brush comes with an elbow-like head and handle which causes your brush to conform with the natural flow of your dog's body. This is also a very durable brush, you'll probably not have to buy another after this one!
Pros
This is one of the most durable brushes on this list, with a good solid handle and a rubber grip that will allow you to run it through your dog's topcoat for hours on end.
The two-piece handle and brush design are perfect for not going against the grain of how your dog's hair moves. This is perfect for huskies that have long hair like me, teehee!
This has a handy anti-slip handle, so you won't have to worry about it slipping and causing any unnecessary grazes or gashes in your dog's sensitive fur.
This brush features a handy button that will allow you to detach the hair when necessary.
Cons
Some users have complained that it hurts their hand keeping the central button pressed down to unleash the bristles.
Sale
Hertzko Self-Cleaning Slicker Brush for Dogs - The Ultimate Dog Brush for Shedding Hair, Fur, - Comb for Grooming Long Haired & Short Haired Dogs, Cats, Rabbits, & More - Deshedding Tool, Cat Brush
THE ORIGINAL SLICKER BRUSH - Trusted by millions of pet owners, loved by millions of dogs and cats! Over 2 million brushes sold, making us the most loved pet brush brand in the country!
THE PERFECT BRUSH TO GET ALL NASTY MATS OUT OF YOUR PET'S FUR – Hertzko's Slicker Brush gently removes loose Hair, and eliminates tangles, knots, dander and trapped dirt. Does your pet shed A LOT? This shedding brush works great on dogs and cats of all sizes and types of hair!
GET RID OF TANGLES WITHOUT HURTING YOUR PET - The bristles are fine bent wires designed to penetrate deep into the coat and are able to groom the undercoat well without scratching your pet's skin! Great brush for dematting shedding dogs and pets with long and short hair! Pets love the way this brush feels, and are excited for each grooming session!
EASY TO CLEAN – When you're done brushing your pet, simply click the button and the bristles retract back into the brush, making it super simple to remove all the hair from the brush, so it's ready for the next time use. This product is strong and durable, allowing you to brush time and time again!
SATISFACTION GUARANTEE - Our Slicker Brush is specially designed with a comfort-grip and anti-slip handle, which prevents hand and wrist strain no matter how long you brush and groom your pet! We back our products with a 100% satisfaction guarantee, for both you and your pet!
Next up we have a bristle brush that you can probably recognize from grooming your dog back in the good old days.
This is a bristle brush, and if you're an old-fashioned dog like me, then you'll love these coarse bristles running smoothly through your fur. It is actually 2-in-1, which is ideal if your dog has different hair lengths – introducing the Diane 100% Boar 2-Sided Club Brush.
This is made from 100% boar bristles, which makes it not only super soft on our husky fur, but it is also great for removing excess hair.
The main handle of this brush is made from real wood, which makes it very sturdy and I don't doubt will last for the rest of you and your dog's life.
This is a great brush for promoting healthy and shiny-looking hair. If you use this one on me, then you can expect my coat to look lovely and glossy, perfect for when you take me out to meet friends who'll be impressed by the pristine condition you've kept me in!
Pros
You can create wonderful weaves or waves in the texture of your dog's hair with this brush. It is a great soft brush for longer-haired breeds like husky dogs.
This brush has a nice thick wooden handle that will result in a very firm hold and allow you to keep a smooth rhythm to your brushing.
This brush will encourage the blood flow to your dog's skin and overall increase the chances of a healthy coat growing through.
This brush will naturally remove the dead hair rather than punishing the newer hairs growing through the top.
Cons
Because this brush is slightly more old school, then some dogs have reported having black hairs in their usual white snowy fur. This might not appeal to dog owners who want something that lasts.
Diane Premium Boar Bristle Brush for Men – Double Sided, Medium and Firm Bristles for Thick Coarse Hair – Use for Smoothing, Wave Styles, Soft on Scalp, Club Handle, D8115
2-BRUSHES-IN-1: The Diane Premium Boar 2-Sided Club Brush is specially made with 100% medium boar bristles on one side and firm nylon reinforced boar bristles on the other side
VERSATILE STYLING: This boar bristle brush is excellent for smoothing, forming and maintaining wave styles and everyday detangling and styling. Medium side works best on medium to coarse hair and firm side for coarse to very coarse textures
SOFT ON SCALP: Our pure boar bristles are gentle on sensitive scalps, helping to seal in split ends, prevent hair breakage, and reduce frizz
SHINY, HEALTHY HAIR: Our boar bristle hair brush evenly distributes your scalp's oils throughout the rest of your hair – from roots to tips, creating a natural, healthy shine
DURABLE: The 5-inch long oval base is made of real wood with special UV coating to prevent moisture, and its advanced implantation technology reduces bristle loss for long-lasting use
This next dog brush is one that looks like the normal razors that you humans shave your fur with (do you call it fur?)
It has a detachable head that can be emptied after a vigorous grooming session. It won't pull out the new hair on your husky, it will just rip out the molting one, leaving your dog with that luscious glossy coat – introducing the Pet Neat De-Shedding Brush.
This is probably the most fashionable dog brush I've seen, I certainly wouldn't mind being groomed by one of these bad boys! Not only is it very comfortable for me, but it also very easy for the owners to use. You can detach the head once all the hair is removed and simply deposit it in the bin.
This will encourage healthy skin and fur, increasing the blood flow to the surface and actually helping improve circulation. You can keep this compact little dog brush in any drawer. It also has a rubber handle for extra safety when you're are giving your canine friend that extra vigorous brush.
Pros
This brush is one of the most ingenious on this list – it has a great rubber handle that will keep giving you nice and steady brushes, allowing you to texture your dog's hair in whatever way you'd like.
This brush works in much the same way as a human handheld razor, with a detachable head that you can use to deposit the dog fur after use.
The steel bristles on this brush are very durable, easily dispatching dog fur by the handful. This brush won't rust or succumb to being tarnished, so you can use it on us huskies even when we're in the great outdoors! Woof woof!
This is great for dogs like me that have much longer fur, so don't worry about it not getting to that undercoat where hairs often get tangled and knotted.
Cons
Some people have complained that this brush isn't much use for a long-haired cat – but hey, who cares about them anyway?
Sale
Pet Neat Pet Grooming Brush Effectively Reduces Shedding by Up to 95% Professional Deshedding Tool for Dogs and Cats (Blue)
Best pet grooming tool! Leave behind the grooming headache, removing up to 95% of dead hair and tangles from your cat and dog easily IN JUST 10 MINUTES! Keep your furniture and floors free of pet hair while SAVING MONEY and TIME on expensive visits to the vet for pet grooming services! Get valuable grooming tips on the 'Four Dog Care' FREE E-book!
A durable shedding tool! This dog and cat comb is MADE TO LAST through long years of effortless pet grooming! With the 100mm STAINLESS STEEL BLADE protected by a cover for your safety and the blade longevity and the STURDY, EASY-GRIP HANDLE, it promise top precision. It is a long-lasting deshedding tool, a MUST-HAVE pet hair remover!
Healthy, shiny pet coat! Rid your four-legged friend of undercoat and loose hair effortlessly, and keep at bay allergies by frequently brushing them! Have your pet thankful for the professional services of a dog/cat deshedding tool and establish strong bonds between you and your four-legged friend!
TA Thoughtful gift to all pet owners! Easy to use and causing not a speck of discomfort, this grooming brush will put a wide smile on the face of the lucky pet owner! It will relieve their dog or cat from shedding, trimming pet grooming time to just 10 minutes. Offer it on all occasions to save them time, money and effort and show off your excellent taste!
100% Satisfaction: All Pet Neat products are satisfaction for life. Click Add to Cart now!
Finally, I've saved the best until last! This is a grooming glove that your husky dog is simply going to love, I know I do!
This is the perfect way of combining an affectionate stroke with a full-blown grooming session. You can feel your loving owner's hand running down your back, while they clean up any excess fur – introducing the Delomo Pet Grooming Glove.
With over 200 silicone grooming tips, you can be certain that your dog will love the feel of this running through their fur. This is perfect for absorbing shedding fur that would otherwise be littering your carpet.
Once all the fur has been packed together on your glove, then you can deposit it as one single piece into your waste bin.
The soft rubber tenure of this glove will mean that you won't have to worry about any skin damage, which can often be a problem with steel brushes.
You can use this glove in the living room or the bath, making it the most versatile brush on this list.
Pros
This is one of my favorite brushes – feeling my master's touch is perfect during a nice quiet evening by the fire.
Featuring no steel components, you won't have to worry about this device becoming rusted or twisted.
Once you have removed all the hair from you're dog's coat, you can peel it off the glove in one single sheet before depositing it in the bin.
Cons
A lot of dog owners have complained that these gloves do not remove enough hair, although non of my doggy friends have complained about this one yet!
Sale
[Upgrade Version] Pet Grooming Glove - Gentle Deshedding Brush Glove - Efficient Pet Hair Remover Mitt - Enhanced Five Finger Design - Perfect for Dog & Cat with Long & Short Fur - 1 Pair (BLUE)
UPGRADE VERSION: With enhanced 255 silicone grooming tips, mimics the touch of your hand for a soft and relaxing massage; This flexible, slip-on grooming gloves allow you to brush away dirt and loose hair from cats and dogs
Hair Remover: Perfect for long, short and curly haired dogs, cats, horses, and other pets, grooming the hair quickly, gently and effectively; The shedding hair sticks to the glove, making it easy to peel and throw hair away
Bath Brush: Bathe the pets with this glove, which will clean the pet hair easily and give your pets a gentle massage without hurting their skin; Five finger design allows you to groom hard-to-reach places like tail or face
Skin-friendly: Free from any materials which could cause skin damage; Soft rubber ensure gentle massage and grooming without painful removing of fur or scratching the skin; One size fits all, it has adjustable wrist strap for a comfortable fit
What You Get: 2 blue DELOMO pet gloves (1 left-hand and 1 right-hand; The left-hand glove is customized for left-hander)
Best Brush For Husky Buyer's Guide
Getting rid of my excess husky hair doesn't have to be a chore, we can have fun doing it together!
Here are some of the best ways you can remove my hair and give me a nice clean coat every day!
Wash me!
If you put me in the bath before my shedding season (which usually happens twice a year) then this is the best way of getting rid of the excess hair and dirt that can get stuck in my old fur.
Dry me!
Once I've been washed thoroughly, then you'll want to dry me. However, rather than using a towel, we would recommend using a blow dryer combined with a steel brush to get rid of absolutely every strand of excess hair!
Make sure the hairdryer is on a lower setting to avoid burning my skin. You can even get hair dryers that are designed for dogs, which have a hands-free operation and operate at a lower heat.
Rake Me!
Once I have dried, then I would recommend that you take a grooming rake to my coat to get rid of all the unsightly dead hairs from my undercoat.
Frequently Asked Questions
Why Should You Brush Your Husky?
There are plenty of benefits from brushing me! It keeps my skin healthy and promotes a glossy coat.
Also, speaking as a dog, I can confirm that it feels really, really good!
Here are some of the benefits of brushing your dog regularly:
It will reduce the amount of hair in your house
It will reduce allergens in your dog
Maintaining your dog's skin and coat
It will reduce the necessity to bathe
It will encourage bonding between you and your dog
You can also examine your dog for fleas and ticks