Colt is trained to block his owner's head during a seizure. She has a traumatic brain injury so it's incredibly dangerous for her to hit her head.
Being a therapy dog is one of the best kind of dogs to be. It takes a lot of training, but we get to help humans, improve their lives, and make them feel better. I bet you have seen some of us working next to our humans. We love what we do!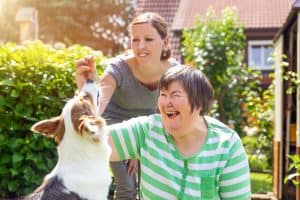 One of the most important traits for a therapy dog is patience. We love treats, but we also want to be patient with people while they get to know us.
Hospitals don't have to be scary! Sometimes, we get our very own hospital IDs, so we can visit patients and make them smile.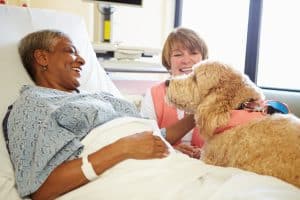 I don't want to brag, but I am told my fur is softer than a baby lamb, and I make people happier than getting the last Jello cup!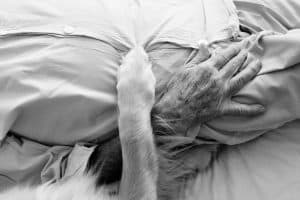 Everyone feels better holding hands – even if that "hand" has paw pads and leaves a really cute footprint.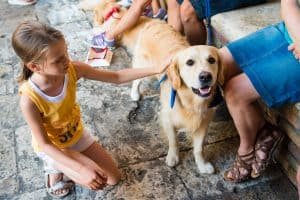 One of the things that we share with non-therapy dogs is that we all love getting petted. I'd like to pretend we do it for the humans, but it feels pretty good.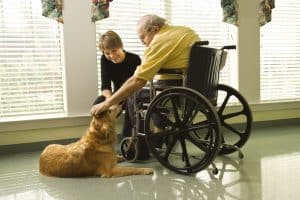 This is me – hard at work for my human. If you see me in a hospital, you should always ask my human friend if it's okay to pet me. When I'm working or training, I need to focus.
It cannot be said enough – hugs are excellent medicine.
I know our adorableness makes it hard, but you should always ask before petting a service or therapy animal, unless we're there to see you! You can tell when we're on duty because we wear this cool vest.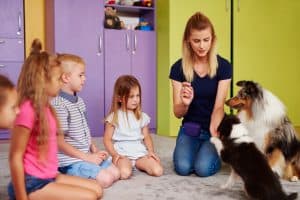 Like I said, it takes a lot of training to be a therapy dog. We start when we're pretty young and it's always good to have a top dog to show us the way.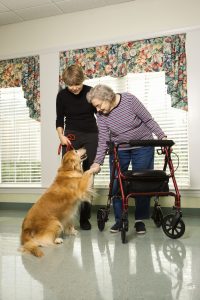 We know how to walk with humans who need help, so try to give us some space. Also, as a gentleman, it's always polite to offer your hand to a lady, especially one who looks as nice as this one.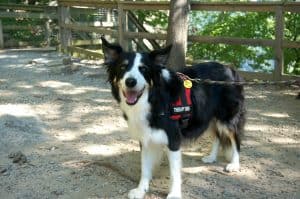 I can't read, but they tell me that my vest says, "Therapy Dog". All I can tell you is that I love what I do – and red is my color!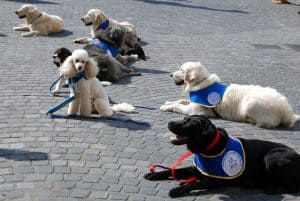 Sometimes, a group of us get together to show everyone our skills. Just remember that if the vest is on, we're on the job, so no treats or belly rubs without asking our human trainer!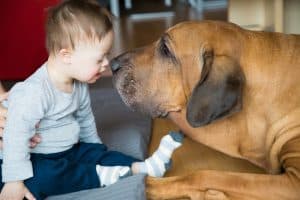 We take care of all sizes of humans. When we're working, they have to be our focus. So, don't distract us or ignore our humans.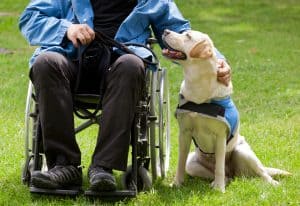 We're usually stuck like glue to our humans, but if we leave them and come to you, check with our human. They might need help!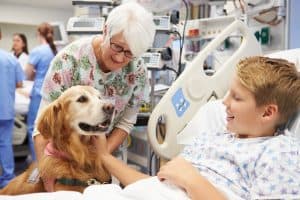 When I visit sick kids, I just want them to smile. I mean, I am pretty charming. I can always get a smile.