We all poop, it's a fact of life. Ask most dog owners the biggest downside to having one, and you'll probably get the answer, "cleaning up after them."
Cleaning up after us is something that becomes second nature to our parents, something that isn't given much attention. That is until it starts to change. As dogs, we are creatures of habit, and that includes when we do our business. Because of that, our intuitive parents are often quick to notice even the slightest change.
As we grow, our bodies change. Something that has been working for us can no longer be right. A change in our bowel movements could be an indication that something is happening, and while there are many possible reasons, one of the most common is our food.
It's not unheard of that we become intolerant of the food that, up until a certain point, has been treating us well. It may be time for a change, and that change might need to be to a low residue food. For most people, that opens up an entirely new world of dog food. Because it can be a little overwhelming, I've put together the seven best low residue dog foods for less poop and better digestion.
Why Your Dog Might be Pooping More
As disgusting as it may seem to some, a dog's poop is one of the easiest ways to monitor their health. Any change, however slight, in frequency or consistency could be an indication that something is going on. It's important to understand the reasons behind why your dog may be pooping more so that you can determine whether or not a low residue dog food is right for them.
Diet – A dog's diet is the most common reason that they may be experiencing changes in their bowel movements. As dogs grow and get older, their dietary needs might be changing, and it could be time to change their food to accommodate their needs. A food that was good when they were young might not be the right fit as they get older. 
As with humans, dogs can get simple upset stomachs that can often be traced to them eating something that is not approved by their owners. Before experimenting with different dog food, first eliminate anything else that they may be eating that they shouldn't be.
Stress – Stress is another common reason for changes in a dog's poop. While it can be difficult to pinpoint why your pup might be experiencing stress, it is something that should be addressed before changing their food. Look for other signs like anxiousness, restlessness, or nail-biting that usually go hand in hand with stress in a dog.
Illness – Like people, dogs can get stomach bugs and general sickness. These bugs will normally resolve themselves in a couple of days. If they don't, it is a good idea to take your pup to the vet for a checkup to make sure that it isn't anything more serious like parasites or bowel disease.
Medications – If your pup has recently been to the vet and given medication, this could very well be the cause of their change in bowel movements. It's very common for antibiotics to cause an upset stomach, especially if you are having a hard time getting them to eat with those antibiotics.
If this is the case, contact your vet as they will probably need to adjust the dose of the medication or change it completely.
What is Low Residue Dog Food
The word residue refers to ingredients in a dog's food that may be harder to digest and, therefore, lead to more poop. Simply put, a low residue dog food reduces fiber by eliminating some of these ingredients that can be hard to digest like grains, corn, and wheat.
As your dog gets older, you may find that they are having a hard time digesting some of the residues in regular dog food. By switching to a low residue food, you will lower your pup's intake of these ingredients and, in turn, make the food easier on their stomach and reduce the amount of poop.
Less waste moving through your pup's digestive system will also reduce the internal stress on the body. While this may not be as big of a concern for young, healthy puppies, it can be extremely important for older dogs, or dogs with health problems.
Low residue food is typically intended as a short-term solution to solve digestive issues but can be used as a long-term fix as well. It is important to consult a vet throughout the entire process to help determine whether your pup can be transitioned back to regular food or need to stay on a low-residue diet.
The Benefits of a Low Residue Diet
Reducing poop can benefit both the dog and the owner. The less mess the better, right? But that's not the only benefit.
Better Pancreas Health – The function of a dog's pancreas is the same as that of a human; it breaks down food and regulates sugar levels. Dogs that have lowered pancreas function or pancreatitis can benefit greatly from a low-residue diet.
Better Colon Health – Colitis is a condition where a dog's colon can become inflamed. Because a low residue diet leads to better digestion, it can also mean that it is easier for them to excrete their waste and, therefore, reduce inflammation in their colon.
Eases Both Diarrhea and Constipation – Another benefit to a low residue diet and improving digestion is the ease of both diarrhea and constipation. Food is broken down easier, making waste more consistent and easier to pass.
Reduces Foul Gasses – A byproduct of poor digestion is flatulence. The foul-smelling gas your dog may be producing is due to the inability of their colon to effectively remove all of the waste they have built up. A low-residue diet will help to ensure that there is no waste left trapped in the colon and in turn reduce gas.
What to Consider When Looking for a Low Residue Dog Food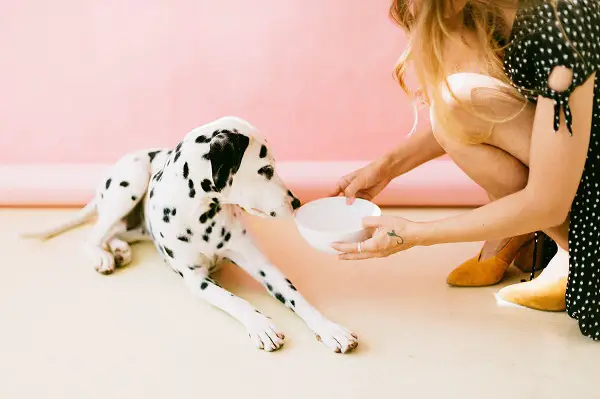 Just like any other dog food, low residue foods are not all created equal. If it's time to put your pup on a low residue diet, there are a few things to consider when trying to find the right food.
Low Fiber Content – The idea behind a low residue dog food is to produce better digestion by reducing hard-to-break down fiber ingredients like corn, wheat, and grains. The right food should be much lower in fiber than regular dog foods and contain fruits and vegetables as their source of fiber, as they are much easier for your dog to break down.
Protein – Protein is an important part of any dog's diet, maybe even more so for a dog on a low residue diet as it can make up for the lower-fiber content. Not only is the protein count important, but so too is the source of that protein. The protein source should provide the right amount of energy while remaining easy to digest. Look for ingredients like whole meat or meat meal that specify exactly what the source of that meat is, whether it's chicken, beef, or pork. Knowing exactly what animal the meat is from will reduce the chance of the food having ingredients that may have more detrimental side effects.
Allergen-free Ingredients – Dogs are just as susceptible to allergies as people are, and those allergies could be one of the reasons why your pup has poor digestion. If this is the case, it is important to determine what your pup might be allergic to, which could sometimes feel like searching for a needle in a haystack. With that being said, there are ingredients that dogs are more prone to being allergic too like corn, wheat, and even meat like chicken and beef. It's important to avoid artificial flavors and colors, as well as meat by-products, as these are ingredients that can easily trigger allergies and digestive issues in many dogs.
Digestibility – Not all food manufacturers will list the digestibility rating on their labels. A low residue should be easily digested, but it's not always easy to find the right information about its digestibility rating. Finding food that displays this percentage on the label is the easiest way to go about it, but it might involve a bit of research. An easily digested food should have a digestibility rating of 80% or higher.
The 7 Best Low Residue Dog Foods
Now that we understand more about low residue foods and why your pup may need a diet change, let's take a look at the top seven low residue dog foods available today.
Merrick offers a wide variety of different recipes, all of which are produced with high-quality, nutrient-rich, natural ingredients. Each recipe is specially formulated based on a dog's specific needs, making it easy to find the perfect blend for your pup.
This particular recipe eliminates not only the use of grains, but poultry products as well, removing many of the ingredients that dogs tend to be allergic to. As a result, this is perfect for dogs that have an overly sensitive stomach.
The use of healthy grain alternatives like potatoes and peas, coupled with protein-rich pork, beef, and lamb, means that this grain-free recipe is easy to digest while still providing all of the essential nutrients that dogs need.
Pros
High-quality, natural ingredients
Grain-free
High in protein
No artificial colors, flavors, or preservatives
Great taste dogs love 
Cons
Big eaters may not be satisfied with recommended amounts 
Hill's Science Diet line of dog foods comes highly recommended by vets all across the country, and its Sensitive Stomach and Skin Formula is no exception.
With its main source of protein coming from chicken, this formula also incorporates brewers' rice to help promote a healthy digestive system. It's specifically made for dogs that have sensitive stomachs and those that are trying to combat specific digestive issues.
Because Hill's Science Diet Sensitive Stomach formula is designed with easy digestion in mind, dogs will get optimal nutrient absorption, resulting in less stress on both their bowl and colon.
As a bonus, healthy doses of Vitamin E and omega fatty acids will help to improve the health of both your dog's skin and their coat.
Pros
Vet recommended
Easy to digest
Maximizes nutrient absorption
Keeps dogs regular while producing less waste
Improves both skin and coat health 
Cons
Chicken as a source of protein may not be ideal for allergy-prone dogs 
Blue Buffalo is another dog food company that is highly recognized and vet recommended. While it produces several high-quality lines of pet food, the Wilderness line is a high-protein line of food that is full of natural ingredients.
Free of grains, yet high in protein, this Wilderness formula is an excellent choice for dogs that need a low-residue diet, and it provides that diet without sacrificing a dog's basic needs to maintain energy and stamina throughout the day.
Blue Buffalo also uses what it calls life source bits to provide a precise blend of vitamins and minerals to support proper gut function and digestion as well as a strong and healthy immune system.
Pros
High-protein recipe helps build and maintain lean muscle mass
Free of many common allergens
All-natural ingredients
No artificial colors or flavors
Rich in antioxidants, vitamins, and minerals
Cons
May be an acquired taste for some dogs
Protein sourced from chicken 
Taste of The Wild is a family-owned and operated company that has set out to create a food that gives dogs the 'balanced diet that nature intended. Using real meat as the No. 1 ingredient, its Roasted Venison recipe combines the great taste of venison with all-natural legumes and fruit to provide food that is rich in vitamins and minerals without having to use the typical grains that can often lead to digestive issues.
Each serving contains 28% protein, one of the highest protein contents of any food on this list, and also provides K9-specific blends of probiotics, antioxidants, and prebiotics to help promote good digestion.
Taste of The Wild also boasts one of the lowest fiber contents of any food on the market at just 4%, well below the maximum amount of fiber needed to be considered low residue.
Pros
Good for dogs of all breeds and sizes
Ideal for dogs with sensitive stomach or allergies
Added omega fatty acids support healthy skin and coat
Use of natural fruits and vegetables for easy digestion
Cons
Not for all life stages and should not be used as puppy food
High price 
Not only does this food meet all requirements set out by the AAFCO (The Association of American Feed Control Officials), but it is also FDA approved.
This dehydrated food is the perfect alternative to making your own dog food, and it's as simple as adding water. With its abundance of protein, vitamins, and minerals, it's as if your dog is getting a home-cooked meal without all of the fuss.
What's nice about this food is that it contains no added chemicals like those used for artificial coloring and flavor. Instead, the ingredients are simple and easy to understand, with chicken, barley, potatoes, flaxseed, oats, and peas providing the essential needs of any adult dog.
Pros
Excellent alternative to both dry and canned dog food
Simple, all-natural ingredients
Human grade
High in both protein and fat while remaining low in fiber 
Cons
Although suitable for any breed of adult dog, large breeds will consume a considerable amount of the food, making it not so budget-friendly 
Reducing your dog's poop and improving their digestion sometimes means having to put them on a diet of raw, unprocessed food, and Stella and Chewy's Freeze-dried Raw Dinner Patties delivers just that.
This food comes in several protein options, including beef, chicken, duck, lamb, pheasant, and venison. So, there is sure to be the right option for any pup, no matter how sensitive their stomach may be.
Stella and Chewy's combines those proteins with all-natural, organic vegetables while eliminating the need for any fillers or added artificial ingredients. The result is an easy-to-digest combination that your dog's body absorbs well and, in turn, reduces waste. Because of this, these freeze-dried patties are considered one of the best low residue dog foods on the market today.
Pros
Contains easy-to-digest muscle and organ meat
Variety of flavor options to help avoid allergens
Vitamin, mineral, and antioxidant-rich
Low in fiber
Can be fed as is or rehydrated
Cons
High price
High-fat content means portions should be monitored to avoid weight gain 
Castor and Pollux prides itself on naturally and responsibly sourcing all of its ingredients. The meat in this formula is grass-fed and free-range, and the vegetables used are all-organic.
Where many dog foods use chicken as their main source of protein, this formula uses lamb to reduce the chances that your pup may be allergic. The lamb is then paired with natural whole foods like lentils, chickpeas, blueberries, and apples to provide a healthy, vitamin-rich food that is easy on even the most sensitive stomach.
The combination of these healthy ingredients leads to a food that is not only rich in vitamins and minerals but is high in protein and low in fiber, the ideal combination for low residue dog foods.
Pros
Free of allergy-triggering ingredients
No added preservatives
No artificial colors or flavors
Rich in Omega fatty acids
Easy to digest 
Cons
Suitable only for adult dogs