In my humble opinion, no southern gentleman's outfit is complete without a bowtie. Granted most days I am running around collarless like some kind of wild animal. A visit to the Cape Hatteras Lighthouse, however, is a special occasion for this guy so I pulled out all of the stops and sported my Lionet Paws collar complete with bowtie. Don't you think it's a good look?
On Saturday we decided to make the hour and a half drive down from our hotel in Kill Devil Hills to Hatteras to see the Cape Hatteras Lighthouse. We let our impulsivity reign again and got in the car and headed down that way without doing much research, which let me tell you is huge for us. For example, my Dad is someone who spent a considerable amount of time researching whether he wanted to buy hiking shoes or boots so this was no small feat (the verdict was boots). Well, we got down there only to learn, much like many things around here in the off season, the lighthouse was closed. The upside of this was there were no crowds and we still got to see it for free. We just didn't get to go inside, but I wouldn't have been able to anyway and the lighthouse is gorgeous from the outside.
A little history from our friends at the National Park Service–
"The Cape Hatteras Lighthouse protects one of the most hazardous sections of the Atlantic Coast. Offshore of Cape Hatteras, the Gulf Stream collides with the Virginia Drift, a branch of the Labrador Current from Canada. This current forces southbound ships into a dangerous twelve-mile long sandbar called Diamond Shoals. Hundreds and possibly thousands of shipwrecks in this area have given it the reputation as the 'Graveyard of the Atlantic'".
From Wikipedia – "On July 10, 1794, Congress appropriated $44,000 [$962,250 in today's dollars] 'for erecting a lighthouse on the head land of Cape Hatteras and a lighted beacon on Shell Castle Island, in the harbor of Ocracoke in the State of North Carolina.' The Cape Hatteras Lighthouse was constructed in 1802."
Apparently the light that was put up there was awful, so Congress appropriated $80,000 to the United States Lighthouse Board to rebuild it in 1868.  That's $1,345,805 in today's dollars.
(Wikipedia) "Completed in just under two years under the direction of brevet Brigadier General J. H. Simpson of the U.S. Army Corps of Engineers, the new Cape Hatteras lighthouse cost $167,000. The new tower, from which the first-order light was first exhibited December 16, 1871, was the tallest brick lighthouse tower in the world. It was 200 feet (61 m) above ground and the focal height of the light was 208 feet (63 m) above water. The old tower 'being no longer of any use and in danger of falling during some heavy storm' was demolished in February 1872.
In the spring of 1879 the tower was struck by lightning. Cracks subsequently appeared in the masonry walls, which was remedied by placing a metal rod to connect the iron work of the tower with an iron disk sunk in the ground. In 1912 the candlepower of the light was increased from 27,000 to 80,000."
Just as another FYI $167,000 in 1870 is equivalent to $3,043,482 today — pretty big difference from the $80,000 or $1,345,805 Congress appropriated. My Mom wishes she could budget the way Congress does.
Anyway, the sea is consistently eroding the coastline because that's what water does, so in 1935 they erected a metal tower with a light on it farther in and gave the brick lighthouse to the National Park Service. Today the navigational equipment is run by the Coast Guard with the National Park Service maintaining it. It is the tallest lighthouse in the United States, standing at 208 feet. The light is 191 feet, which takes 268 steps to get there. Man did Mom miss out on a good workout — she needed it after all the fried fish and whatnot she ate this weekend. The lighthouse had to be moved September 14, 1999 as it was only 15 feet from the ocean (this date was incidentally right after my mom's family moved to North Carolina from Kentucky and when she chose it as the background on her driver's license). International Chimney Corp. along with several contractors including Expert House Movers conducted the move, and it is one of the tallest masonry structures ever moved. I still have trouble wrapping my head around moving a house, let alone a tall, heavy lighthouse that could easily topple. I have trouble getting my kids to move where I want them to – they are not very herd able. But the movers were successful (despite much controversy and lawsuits concerning potential damage), and now after moving 2,900 feet it has a wonderful setting 1,500 feet from the shoreline which is where we visited it in all of its grandness. The principal keeper's quarters and double keeper's quarters were also moved with it. We enjoyed those buildings too– frankly I'd love to live in the principal keeper's quarters, it's a beautiful home. Here I am on the front porch, just hanging out on a bench and pretending to be ruler of all I survey.
Don't I look like a grand, dapper little gentleman in my Lionet Paws Dog Collar with Bowtie and my Lionet Paws Dog leash? My mom has had dogs her whole life and many different kinds of dog collars and this is the best dog collar she has ever used. Most dog collars she has interacted with involved the old plastic clasp that you have to squeeze and hope that if your dog has an ample neck (as ahem, I have been told I have), that it doesn't get bunched into said clasp causing a bit of pain for your dear friend.  That is no concern with this dog collar's clasp– it is seriously like butter, people. That is the only way I can think of to describe it. The closing mechanism of the stainless steel is the smoothest and it just glides in and clicks in place. No pinching of rotund necks here, so I am free to worry about other trivial things, like my youngest charge getting into the deer poop at the monument while we were taking pictures. True story.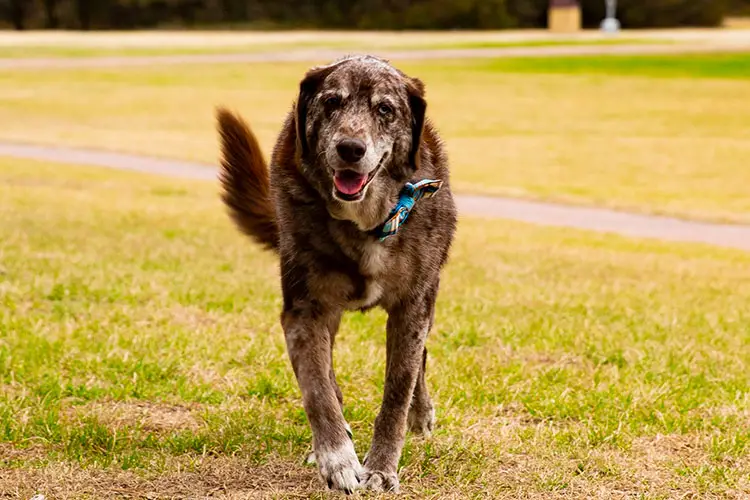 Back to the collar — as a bonus, the collar is not only easy to use but it is also SO CUTE.  Considering there weren't that many people there we got quite a few compliments not only on me but also on my stylish little collar. I was a distinguished ambassador of goodwill for our family that day, and it was refreshing for my parents to be able to just talk to people and have me be our little furry door opener. And the bowtie on the collar is the icing on the cake– it is so Southern and gentlemanly and I just love how cute I look in it. It is so easy to attach or detach as needed. Now if my parents could get our church to do a service with pets, I have my formalwear ready to attend!
The leash is also well made and of the same soft cotton fabric, which made it more comfortable to hold than the woven nylon my parents are used to using. When it came time to put me on a shorter leash (to avoid the obligatory butt sniffing and greeting with other dogs), it was as easy as wrapping it around my Mom or Dad's hand. And again, being that the fabric is so soft it was quite comfortable for them. My little ones even enjoy holding me with the leash and my parents don't have to worry about their hands getting chafed by the fabric. The clasp for the leash is made of the same stainless steel and it works like a dream.  The only time we had a hiccup was after the sand dunes some sand got down in there and it briefly jammed but that was more user error than anything (try to avoid getting sand in it if possible). Mom fiddled with it a minute, the sand cleared and it was smooth sailing from there.
I love the way the fabric of this collar brings out the blue in my left eye, but my Mom is also eyeing their patriotic American flag pattern for 4th of July. She's trying to convince my Dad to let her get the pink gingham one too but so far her requests have been denied. I do think the pink gingham would be especially dapper. If we make a trip down to Charleston, SC I know it would be a good choice for me to wear down there with the other gentrified dogs.
All in all it was a successful trip to the lighthouse minus all of the deer and other wild animal poop piles we had to dodge, but I would recommend it. We debated on taking the ferry to Ocracoke Island but decided to head back and have lunch at Capt'n Frank's Hot Dogs before it closed (I had to wait in the truck for this part of the trip – which is strange because it has Dog in the name of the restaurant).