I'm the odd dog that loves baths. It's more fun getting dirty, but cleaning up is a close second. I don't understand how any dog could dislike a good bath. Now, it shouldn't come as a surprise that my curiosity can get the best of me, resulting in some sticky, and stinky, situations. Those can be tough for my mom and dad to combat;I can still smell even after a good bath. I don't like that wet dog odor, and neither does my mom and dad, especially when it transfers around the house. Thankfully, there's an abundance of different shampoos that fight any smell we throw at them, leaving us smelling great.
Bathing Basics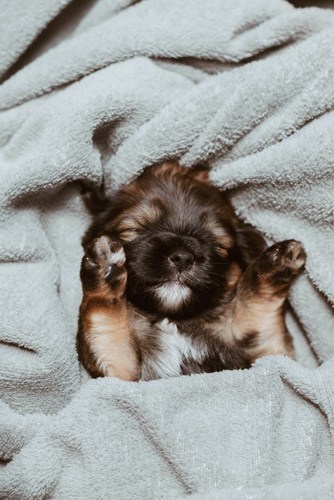 Not many dogs love a good bath as much as I do. Whether you're bathing your new pup for the first time or trying to make the experience more pleasurable for the both of you, there are a few things you need to know.
How Often a Dog Needs a Bath
Every dog is different. Some spend most of their time inside, while dogs like me prefer to be outside rolling around in the dirt and mud. Dogs with short hair may not need to be bathed as often as those with long hair. Certain breeds whose fur has waterproofing abilities will need fewer baths to avoid removing the essential oils in their fur. As a general rule, one bath a month is usually sufficient as a dog's skin cell cycle – where the loss of old cells will create dander – is about every 30 days. A good bath will keep that dander to a minimum.
Prepare Yourself
You're going to get wet and dirty regardless of whether your dog likes baths, so wear clothes you don't mind ruining. One quality towel isn't enough, no matter your pup'ssize. Bring one each for your dog, yourself, and to dry up all of the water that's been splashed around inside. These towels, along with your shampoo and conditioner, should all be within reach. Getting up may allow your dog to escape and run around the house soaking wet while still just as stinky and dirty as before.
Choose the Right Spot
The only time I've ever disliked my bath was when my owners used the garden hose. The weather has to be perfect, and it's impossible to regulate the water temperature. Being sprayed with cold water isn't a fun experience for any dog, especially if it's hot outside as the combination with rigid water can shock our system.
Some dogs are small enough to be bathed in the kitchen sink, but the best option for bigger dogs like me is a portable dog tub. These tubs can be used inside or out during any time of the year, and they're ability to easily regulate the bathwater's temperature offers a much better experience for everyone involved.
Technique is Everything
Bath time can be daunting for both the dog and their owner, but the right process can mean all the difference.
Prepare the Bath – Lukewarm water is the best when it comes to bath time. It's the most comfortable for us. Too cold and the bath will be uncomfortable, too hot and it could damage our skin. Filling the bath about halfway won't force us to swim while leaving ample water for rinsing.
Positive Re-enforcement – Getting your pup into the tub is one of the hardest things to do. They can be reluctant even if they love bath time. Talking to them in a positive tone, coaxing them with treats, and rewarding good behavior can make the process easier. Start your pup off young to get them used to the idea of bath time as a regular, and positive, occurrence. 
Start With a Good Brush – Brushing before the bath is a good way to get rid of any matted or loose hair that might hold on to water and create a mess. As an added bonus, lots of dogs love getting brushed and it can help calm them down before they get into the tub.
Dilute the Shampoo – Most shampoos are thick. Diluting your shampoo with a bit of water will help it lather better and spread further, meaning you end up using less of it.
Get Your Pup Nice and Wet – Use the warm bath water to soak your furry friend. Most dog fur will repel water to some extent, so pouring the water over them won't wet all of their layers wet. Plus, your shampoo won't work on dry hair. Wet your dog down and work the water with your hands, trying to get them as wet as possible before shampooing.
Lather, Rinse, Repeat – It's a good idea to shampoo even the cleanest dog twice. Round 1 is going to bind with the dirt on the dog's fur and remove most of it. With the main layer of dirt gone, you'll get right down to the skin in Round 2, removing the remaining dirt as well as loose, flakey skin.
Take Care Around the Face – Eyes and ears are the most sensitive spots on a dog's body. Take extra care around these areas and avoid getting any shampoo in them. Use a washcloth to gently wash around sensitive areas instead of trying to lather and rinse directly.
Rinse Repeatedly – Rinsing your pup a few times to remove all of the shampoo will ensure there's none left to dry on their skin. Any remaining shampoo could lead to your dog's skin drying out and becoming irritated and itchy, even for those without sensitive skin.
The After-Bath – Nobody likes that all-too-familiar wet dog smell. While a great-smelling shampoo goes a long way in combating that odor, drying your dog off after their bath will make sure the fresh, clean smell will stick around. A blow-dryer can be used provided it's on low heat or a cool setting to avoid burning the pup's skin. It's also a good idea to give them another brush to remove any of the hair that may have loosened up during the bath.
What to Look for in a Dog Shampoo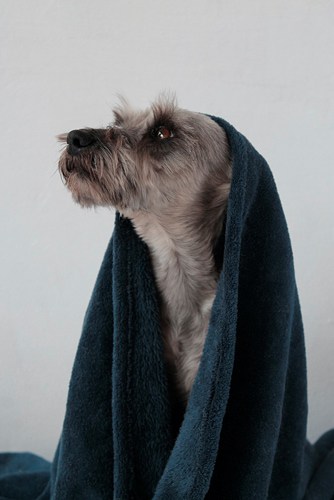 While it may seem easy to grab your shampoo and use it for your pet, you should choose one that formulated for dogs as the pH balance they need can be much different than what a person requires. A dog's skin has a much more neutral pH compared to a person's; using a shampoo formulated for people will remove a dog's essential oils and cause their skin to dry out. Here's what to look for in a dog shampoo:
Mild, Natural Ingredients – Dog shampoos can be packed with all kinds of ingredients, some of which are harmful. Harsh chemicals like dyes and perfumes may seem like a great way to make your dog smell fresh and clean, but those chemicals can sometimes cause your pup's skin to become dry and irritated. The more sensitive your dog's skin, or the more prone they are to having an allergic reaction, the worse the outcome will be. Instead, look for a shampoo that contains natural, mild ingredients.
Moisturizing Ingredients – Veterinarians will often recommend a shampoo that contains ingredients like oatmeal and aloe vera because of their natural moisturizing properties. These kinds of ingredients will prevent and repair dried skin, reduce dandruff, and control excessive shedding. All dogs can benefit from good moisturizing ingredients.
Pest-repellent ingredients – Most people don't realize that many shampoos contain ingredients – like lemongrass and peppermint – that naturally repel pests such as mosquitoes, fleas, and ticks without the need for harsh chemicals.
What to Avoid in a Dog Shampoo
Just as there are ingredients you should be looking for in a shampoo, there are things you need to avoid.
Artificial Colors and Perfumes – Artificial colors and perfumes are some of the biggest culprits in drying out your dogs' skin and removing their fur's natural, essential oils. Just because a shampoo smells amazing doesn't mean it's good for your dog.
Preservatives – Although preservatives are commonly found in everyday products, some preservatives have detrimental long-term health effects. Formaldehyde, one of the most common preservatives, is a carcinogenic that causes skin irritations and, with long-term exposure and use, has been linked to brain and spine issues.
Mineral Oil – Although mineral oil helps a dog's skin retain its natural oils by providing a protective barrier, that barrier can also prevent the skin from releasing its natural oils and eliminate toxins.
Alcohol – Alcohol will dry out and remove the natural oils that a dog's skin and hair produce. This allows for toxins to enter your pet's skin and cause it to dry out, possibly leading to serious skin conditions.
5 Best-smelling Shampoos That Leave Your Dog Smelling Great
Now that we have a good insight into handling bath time and what to look for in a good shampoo, we can look at our top-five shampoos.
1. Earthbath Oatmeal and Aloe Shampoo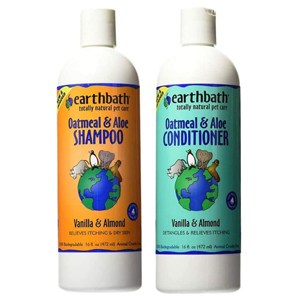 Earthbath provides some of the most effective, healthiest shampoos on the market, and their Oatmeal and Aloe Shampoo is no exception. Containing oatmeal and aloe vera, this pet shampoo will help your dog smell great while hydrating their skin and coat. Its all-natural ingredients maintain the natural pH levels of your pup's skin while providing the moisture needed to keep it from drying out. The combination of natural vanilla and almond will leave your pup smelling clean and fresh for days and weeks to come.
What Customers Think: Customers using Earthbath love its moisturizing quality and its ability to sooth their dog's dry skin. There were very few negative reviews, with the most common complaint regarding the duration of the shampoo's scent, a result of no added perfumes.
Amazon Rating: 4.7 Stars
Pros
Perfect pH balance
No added dyes or soaps
Natural ingredients soothe skin
Cruelty-free
Money-back guarantee 
Cons
Not recommended for use on younger puppies
2. Buddy Wash Dog Shampoo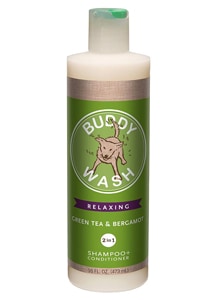 Buddy Wash Dog Shampoo has one of the highest Amazon ratings on the market. It uses all-natural ingredients to provide a soothing, calming bath experience that leaves your dog smelling great. The combination of green tea, sage, and rosemary extract leaves a long-lasting smell that both you and your dog are sure to love without sacrificing its ability to clean. It's also a healthy bath time option due to its lack of added chemicals.
What Customers Think: Reviewers love that Buddy Wash offers multiple different scents in their shampoos to ensure there's one that suits everyone's taste. Plus, they do so without sacrificing natural cleaning qualities. This pet shampoo's mild ingredients mean that it's safe for both puppies and dogs that require more frequent baths.
Amazon Rating: 4.7 
Pros
Multiple scent combinations to suit anyone's needs
Scent is long-lasting
Mild ingredients suitable for dogs of all ages
Cruelty-free 
Cons
Takes multiple rinses to completely remove from hair and skin 
3. Buddy's Best Natural Dog Shampoo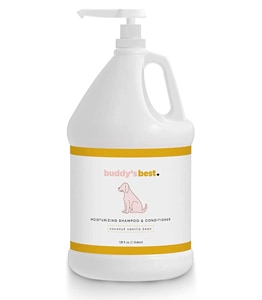 Buddy's Best Natural Dog Shampoo also offers multiple scent combinations, and it uses all-natural ingredients such as coconut and vanilla bean instead of harsh perfumes to remove odors and eliminate the need for frequent baths.
What Customers Think: Of all of this shampoo's different fragrances, reviewers love the ripe melon scent because it's unique and long-lasting. It also won't overwhelm a young dogs sensitive sense of smell while helping to calm amid the stress of bath time.
Amazon Rating: 4.6 Stars
Pros
All-natural ingredients
Quickly removes and prevents odors
Oatmeal helps naturally moisturize a dog's skin
Safe to use on dogs of all ages
Cons
Despite claiming to be hypoallergenic, some dogs may still be allergic to certain ingredients
4. 4-Legger Organic Dog Shampoo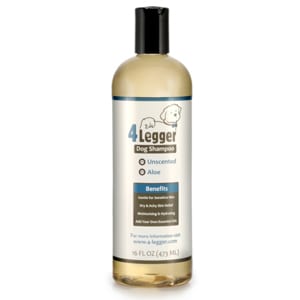 USDA-certified organic, the 4-Legger Organic Dog Shampoo is an all-organic shampoo formulated to deodorize your dog. Rosemary and lemongrass help to neutralize unpleasant odors and ward off pests like mosquitoes. Additionally, the concentrated formula means less is more, saving you money in the long run.
What Customers Think: While some reviewers weren't impressed with the shampoo's minimal scent, most agreed that its deodorizing properties kept their pet smelling fresh.
Amazon Rating: 4.5 Stars
Pros
USDA-certified organic
All-natural ingredients
Hypoallergenic
Won't remove a dog's natural oils
Alcohol-, perfume-, and dye-free
Cons
Relatively expensive
Can be hard to lather and rinse
5. Pets Are Kids Too Premium Pet Oatmeal Shampoo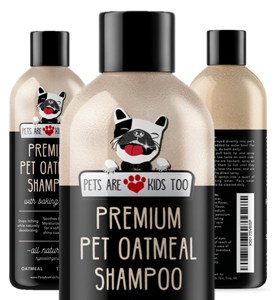 The Pets Are Kids Too Premium Pet Oatmeal Shampoo is specifically formulated for pets with sensitive skin. It uses oatmeal, aloe vera, and coconut to soothe dry skin and leave your pup smelling fresh and clean. This shampoo is alcohol-free, detergent-free, and contains zero added chemicals, leaving behind a pleasant smell without being overpowering.
What Customers Think: Reviewers love this shampoo's effectiveness and the lasting smell it leaves behind. However, some customers found it harder and more inconvenient to use than others on this list because it needs to be left in for a while to get the lasting effects.
Amazon Rating: 4.5 Stars
Pros
Cruelty-free
All-natural ingredients
Fast-acting relief of dry skin
Plant-based ingredients are safe for dogs of all ages
Outstanding customer service
Cons
Expensive
Leave-in formula can be difficult to use with rambunctious puppies
Baths can be stressful for everyone involved, but a good-quality shampoo will help minimize these occurrences while keeping your dog smelling great. And let's face it, who doesn't love snuggling up with a clean and fresh-smelling pooch?