Winter can bring a whole host of issues for us dogs. Most of us love our time outside, but the cold, messy conditions keep us indoors more than we'd like. There, we're more exposed to artificial heating, which dries out the air and our skin. I myself have developed dry skin during the winter, and it's not pleasant. Where our humans can remedy this with moisturizer, there isn't much more we can do than scratch our skin. Thankfully, this uncomfortable problem can be solved with a quality moisturizing shampoo.
Understanding More About a Dog's Dry Skin
It's important to understand a little more about dry skin before looking at the best remedies. While many cases of dry skin aren't serious, it shouldn't be ignored. Dry skin can be a symptom of a more serious condition. Also, if left untreated, it can lead to more serious issues. We scratch and we scratch, which can lead to red, irritated skin, as well as open sores that can get infected.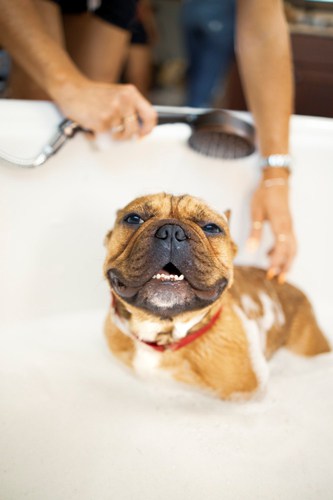 What CausesDry Skin? 
Environment – Environmental changes are the most common cause of dry skin in a dog. While my condition is due to the winter air, dogs that live in a low-humidity environment might experience more prolonged and frequent bouts of dry skin. Of course,it's impossible to apply a moisturizing cream to furry creatures like us, which is why we need to have somewhat frequent baths with a moisturizing shampoo. Additionally, a humidifier can go a long way toward relieving our itchiness.
Genetics – Some breeds are more prone to dry skin than others and more likely to get serious skin disorders, usually because they tend to have more sensitive skin and are more susceptible to allergies.
Allergies – We can be allergic to certain kinds of food, the environment, and even seasonal irritants like pollen and grass, which can lead to dry skin. Most allergies are easily treated, but they can lead to dermatitis, which can result in other skin infections if left to their own devices.
Infections – Infections, both bacterial and fungal, can quickly inhabit a dog's body, causing dried out, scaly, itchy skin. Infections can seemingly occur at random but can also be an indication of an underlying condition. Therefore, it's important to not dismiss dry skin as an inconvenience.
Improper Diet –It's an unfortunate fact that many of the commercially available dog foods may not be providing the nutrition a pup needs. Omega 3 fatty acids and certain vitamins play a vital role in maintaining a dog's coat and healthy skin. It's easy for your pup to develop dry, itchy skin with lower-quality or insufficient ingredients.
Parasites – Fleas are disgusting little creatures that feed off your dog's blood. A flea bite can be itchy and subsequently cause dry skin. The only way to treat this irritation is to eliminate the fleas. Only then can moisturizing shampoos be used to alleviate the dry skin.
Mites are also a common parasite. They cause dry, flakey, itchy skin that, if left untreated, can lead to a loss of fur and bald patches.
Intestinal worms are also a nasty parasite that, like tapeworm and ringworm, attach themselves to the dog's intestinal wall and feed off their nutrients, leading to dry skin.
If it's hard to determine the cause of your dog's dry skin, it's recommended they undergo a physical examination to rule out any one of the above parasites.
Hormonal Imbalance – One of the many symptoms of a hormonal imbalance is dry skin. Although this imbalance can result from pregnancy,a metabolic disease,or cancer, you shouldn't panic at the sight of dry skin. Instead, pay attention to other symptoms like a loss of appetite, bloating, or lethargy. Any of these, coupled with dry skin, could be an indication of a more serious condition and should be checked out by a vet.
Overbathing – Even with the best of grooming and bathing supplies, excessive bathing can have an adverse effect on a dog's skin. It should be done in moderation. A bath once or twice a month is more than enough. In fact, it's recommended that most dogs have a bath every one-to-three months.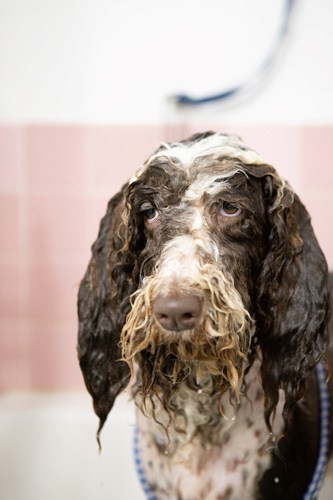 Symptoms of Dry Skin
Dry skin can be easy to spot, but every dog is different. The most prominent symptom is persistent scratching. However, it can include other symptoms like dandruff, odor, pimples, scabs, and hair loss. While excessive itching may not seem overly problematic, if it's coupled with any other symptoms, it's a good indication that the dry skin is worsening and should be treated right away.
What to Look for in a Shampoo for Dry Skin
A good dog shampoo for dry skin can go a long way in treating the problem without any intervention from a veterinarian. Understandably, choosing the right one can be overwhelming. Shampoos can have their own unique characteristics, it's important to find one that works best for your specific dog. Any dog shampoo can be placed into one of three different categories: chemical-based, certified organic, and all-natural.
While it's possible for chemical-based shampoos to contain natural ingredients, they mostly contain artificial ingredients. Many people tend to stay away from chemically enhanced products to get what's best for their pups. But depending on the severity of the dry skin, some chemicals may be necessary. This is where medicated shampoos come into play. They treat severely dry skin when a typical moisturizing shampoo doesn't work.
Added perfumes and soaps in shampoos should be avoided as they can worsen a dog's dry skin. An off-the-shelf shampoo that contains additives is often the cheapest option available;our owners should be cautious of the product's ingredients to avoid making the problem worse.
As a general rule, certified organic shampoos are the most expensive option as they go through a rigorous certification process to ensure they're completely organic and contain only natural ingredients without any added chemicals. These products are great for dogs that may have overly sensitive skin or allergies.
While many consider natural and organic shampoos the same thing,they shouldn't be confused with each other. Companies will use all-natural ingredients to provide a product that's considered better for your dog, but there's no certification process to ensure they're 100% organic.Therefore,they can add extra chemicals while still maintaining a natural status. Be aware of what ingredients are in the shampoo to avoid creating any issues or prolonging preexisting concerns.
There are a couple of key ingredients to look for when buying a dog shampoo for dry skin. Oatmeal and aloe vera are the two most common and offer effective, natural moisturizing abilities.
Avoid ingredients like alcohol, artificial dyes and coloring, and perfume. They could worsenyour dog's dry skin.
7 Best Dog Shampoos for Dry Skin
Here are the top dog shampoos for dry skin based on consumer reviews: 
1. Earthbath Oatmeal and Aloe Shampoo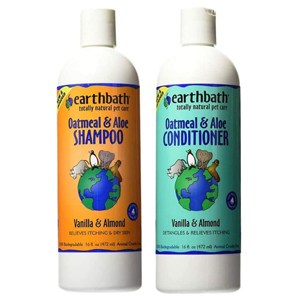 Earthbath is a pet-wellness industry leader. They provide some of the most effective, healthiest shampoos on the market, and their Oatmeal and Aloe Shampoo is no exception. With oatmeal and aloe vera as the main ingredients, this shampoo hydrates and soothes a dog's irritated, dry skin. Itsall-natural ingredients maintain the natural pH levels of your pup's skin while providing the moisture needed to keep it from drying out. Regular baths with this shampoo will reduce or eliminate a dog's dry skin.
What Customers Think: Reviewers love the moisturizing quality this product has to offer. Very few said anything negative, with the most common complaint regarding the duration of the shampoo's scent.
Amazon Rating: 4.8 Stars
Pros
Perfect pH balance
No added dyes or soaps
Natural ingredients soothe skin
Cruelty-free
Money-back guarantee 
Cons
Natural scent wears off quickly due to lack of added perfumes
Not recommended for use on younger puppies 
2. Pet Pleasant Lavender and Oatmeal Dog Shampoo
One of the most frequent complaints about an oatmeal shampoo is its sometimes unpleasant odor. That can put some people (and dogs) off, but the Pet Pleasant Lavender and Oatmeal Dog Shampoo combat this with the added fresh scent of natural lavender oil. The oatmeal's moisturizing qualities paired with the lavender oil's soothing properties will provide a pleasurable bath experience while helping to relax your dog and soothe their itchy, dry skin.
What Customers Think: While impressed with how quick and effective this shampoo is in relieving dry skin, customers also love both the great scent and relaxing qualities that the lavender oil provides. Unlike many other natural shampoos, the lavender scent is long-lasting, keeping pets smelling fresh for days and even weeks.
Amazon Rating: 4.6 Stars
Pros
Hypoallergenic
Lavender soothes and leaves a long-lasting scent
Quick relief of dry, itchy skin
Works for dogs of any age and size 
Cons
May cause a reaction for dogs with overly sensitive skin 
3. 4-Legger Organic Dog Shampoo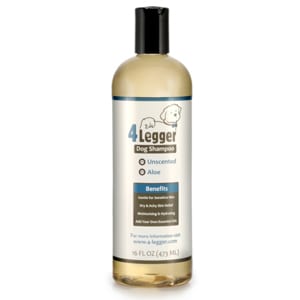 USDA-certified organic, the 4-Legger Organic Dog Shampoo is an all-organic shampoo formulated especially for dogs with dry skin. This shampoo is detergent-free, sulfate-free, and contains no harsh chemicals. Essential oils like rosemary and lemongrass not only relieve dry skin but also have antibacterial and antifungal properties to help soothe and heal skin issues. The concentrated formula means less is more, saving you money in the long run.
What Customers Think: Most reviewers agree that this shampoo doesn't have the best smell, but they were willing to overlook that because it does such a good job of relieving dry skin.
Amazon Rating: 4.5 Stars
Pros
USDA-certified organic
All-natural ingredients
Quickly soothes dry, itchy skin
Hypoallergenic
Doesn't remove dogs' natural oils
Alcohol-, perfume-, and dye-free
Good for dogs of all ages 
Cons
Relatively expensive
Can be difficult to lather 
4. Vet's Best Hypoallergenic Shampoo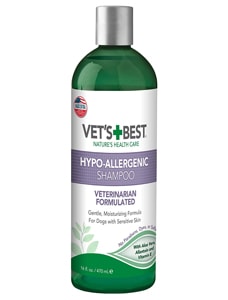 Vet's Best Hypoallergenic Shampoo is vet recommended and from a trusted, well-known brand. This product is soap-free and gentle while moisturizing and relieving the uncomfortable itch of dry skin. The vet-formulated blend of plant-based ingredients can be used as often as needed without the worry of drying out your dog's skin. Vet's Best is safe to use on dogs and puppies of all ages as its natural and hypoallergenic.
What Customers Think: This shampoo is popular with customers that have dogs with overly sensitive skin and allergies. Reviewers were happy that it quickly relieves dry skin without aggravating already-sensitive skin.
Amazon Rating: 4.5 Stars
Pros
Vet recommended and formulated
Hypoallergenic
No added chemicals, dyes, or soaps
Won't remove a dog's natural oils
Aloe vera and Vitamin E help soothe itchy, dry skin 
Cons
Could take multiple baths before noticeable dry skin relief 
5. Pets Are Kids Too Premium Pet Oatmeal Shampoo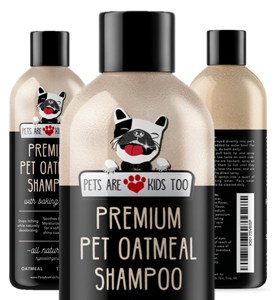 The Pets Are Kids Too Premium Pet Oatmeal Shampoo is specifically formulated for pets with sensitive skin, using oatmeal, aloe vera, and coconut to soothe and reverse dry skin. Alcohol-free, detergent-free, and with zero added chemicals, this shampoo is very effective in relieving dry skin while reducing shedding and acting as an antibacterial and antifungal treatment.
What Customers Think: Reviewers have replaced some of their dog's medicated skin treatments with this shampoo. (However, be sure to consult your vet before taking your pup off any medications that may have been prescribed for dry skin.) Customers love the effectiveness of this shampoo and its lasting smell. Pets are Kids Too's customer service went above and beyond to ensure any issues were quickly resolved.
Amazon Rating: 4.5 Stars
Pros
Cruelty-free
All-natural ingredients
Fast-acting relief of dry skin
Plant-based ingredients are safe for dogs of all ages
Outstanding customer service
Cons
Expensive
Leave-in formula can be difficult to use on dogs that can't sit still 
6. Mighty PetzOatmeal Shampoo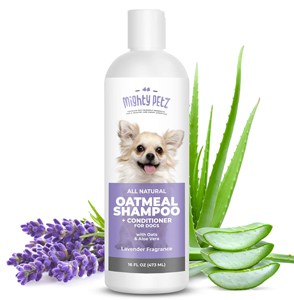 Like most others on this list, Mighty Petz Oatmeal Shampoo contains none of the harsh chemicals that can cause, or worsen, dry skin. The use of aloe vera and oatmeal provide soothing, moisturizing relief. Regular bathing with Mighty Petz can also eliminate dry skin. The added lavender oil calms and provides a pleasant, long-lasting smell.
What Customers are Saying: The Mighty Pets Oatmeal Shampoo does what it can to relieve any added stress a bath might bring with its soothing, calming formula. While not always perfect, customers agree that their dog's bath time is less stressful with this shampoo.
Amazon Rating: 4.5 Stars 
Pros
Pleasant, calming lavender scent
100% biodegradable
Perfectly balanced pH
Contains naturally occurring vitamins and antioxidants
A total of seven all-natural ingredients 
Cons
Shampoo is thin, meaning more is needed to lather properly
Bottle doesn't last relatively long 
7. Burt's Bees All-natural Oatmeal Shampoo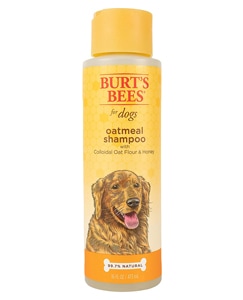 Burt's Bees is a well-established company that's created all-natural, environmentally friendly products for years. The All-natural Oatmeal Shampoo offers a natural formula that's gentle on a sensitive dog's skin while using the moisturizing power of oatmeal to help soothe. This vet-recommended product can also clean and condition a dog's coat.
What Customers Think: The combination of colloidal oat flour and honey quickly soothes a dog's dry skin. However, customers found that it was sometimes hard to rinse the shampoo out of their dog's fur, which can result in worsening dried skin.
Amazon Rating: 4.5 Stars
Pros
Quickly alleviates itchy, dry skin
Established company with a great reputation for making quality products
No harsh chemicals
Safe for frequent use
Safe for dogs of all ages
Vet recommended 
Cons
Doesn't lather well
Can be difficult to rinse out of a dog's fur 
Dry skin can be common for dogs of all ages and breeds. While some of us might be more susceptible to it than others, it's usually a fact of life. Because of that, it often gets overlooked. Our owners will watch us scratch and think to themselves,"It's just skin, it'll go away."Most of the time, it doesn't. Bathing your furry friends in a quality shampoo designed to help with dry skin is a good way to ensure it doesn't become serious.